2015-2016 Academic Year marked as "The Year of Success"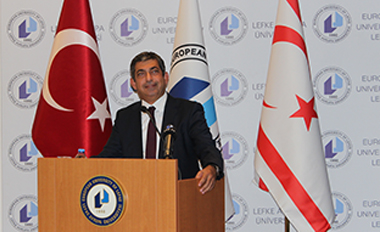 The European University of Lefke (EUL) 2016-2017 Academic Year opening ceremony, which was held in EUL Rauf Raif Denktaş Conference Hall, was initiated with opening speech of the Rector Prof. Dr. Mehmet Ali Yükselen.
Yükselen have forwarded his speech under two main titles of "2015-2016 Academic Year assessment and planned projects for 2016-2017 Academic Year".
Yükselen: EUL commenced the 2016-2017 Academic Year with 18 new programs:
Yükselen further informing about the new accredited departments by the Council of Higher Education (YÖK), have stated that total of 18 new programs consisting of 8 associates degree, 5 undergraduate, 3 post-graduate and 2 PhD programs are introduced with the new academic year, accumulating the total number of YÖK accredited programs to 109. Yükselen underlined that these statistics are indications for development and enlargement in terms of each program, thus in line; the total number of academic staff have increased from 243 to 304 during the new semester.
Yükselen emphasized that fort he first time in EUL's history the university have reached 9167 students compared to the previous number of 7051 and also added that EUL campus is continously enlarging its capasity with the newly constructed buildings.
Yükselen: Compared to previous year, 23% of increase in Undergraduate Placement Exam achieved
Initiating his Office in 2013, the UPE results indicated 870 students preffering EUL and increasing in 2015 to 1739 and finally in 2016 increasing upto 23% to 2147 thus ranking EUL to the top third preffered university in TRNC fort he first time in its history. "Taking into consideration since the first day of my office, the total percentage of increase is 147% with the reality of students preffering EUL's 28 programs with the highest base point.
 "Number of Students increased upto 30%"
Yükselen stressing that compared to previous year's number of students which was 7051, this year the number have increased upto 30% to 9167 thus also the number of foreign students increased upto 72% compared tol ast year and that this year the variety of students from different countries have increased from 49 to 59 different countries. Yükselen have expressed with gratitude that fort he first time in its history EUL have welcomed 3206 newly registered students to its capmus
Projects briefed for the 2015-2016 Academic Year
Yükselen briefing on the previous year's completed projects have also emphasized that EUL have come into terms with England's Bradford University on issuing dual degree thus initiating the first group of students' education in England having been accredited by Association for Evaluation and Accreditation of Engineering Programs (MÜDEK), Pakistan Engineering Council, provided by additional equipment by the Health Sciences Faculty to the laboratoires, further developed the Center of Application, Research and Education for Children with Special Needs (ÖÇEM), completed the construction of the Law Faculty and completed the dormitory of Build-Operate-Transfer, completed the construction of Lefke Central Dormitory, completed the social facility center EUL LOUNGE and expanded its transportation group.
Yükselen underlined that their support towards the students clubs are continuing and that the projects under "Communal Services Applications" course of the Faculties have been well promoted thus influencing positively to EUL within the course of students putting their efforts to these projects. Yükselen have also gave brief informaiton about the students' success.
2016-2017 Academic Year plans and projects introduced
Briefing on the projects planned for the 2016-2017 Academic Year, have further stated that campus development will continue. Yükselen also remarking that faculties will further work on the accreditations within the academic framework, thus opening new departments, increasing the number of current departments and international students.
Following the academic general assembly meeting, a coctail event had ttok place at the Gemikonağı campus of EUL in the EUL LOUNGE facility, celebrating the successful rise of EUL.