A Great Achievement from a Graduate of EUL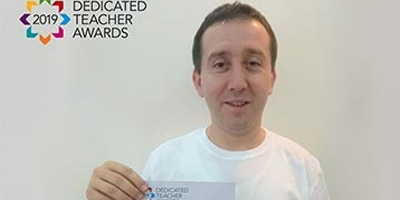 Chosen to List of 50 Dedicated Teachers
A graduate of European University of Lefke (EUL) has been chosen for the list of "50 Dedicated Teachers". In the global competition program organized by the University of Cambridge Publications, two Turkish teachers were included in the top 50 lists of Dedicated Teachers Awards this year. EUL Graduate Volkan İner was one of the teachers that entered the list for Dedicated Teachers.
İner said that the Dedicated Teachers Awards is a global competition organized by Cambridge University Publications, where students can nominate their teachers. Stating that the program offers teachers the opportunity to come together with students and teachers around the world to show respect and devotion to the self-sacrificing work of teachers every day, İner said that more than 4000 teachers from 75 countries were nominated for the program.
Graduated from European University of Lefke, İner stated that he was working as an English Teacher at Manisa Ülkem Middle School in Middle East Technical University under the supervision of GV and added that he is delighted to be among the 50 teachers which are selected worldwide by the Cambridge University Publications.
In the competition, teachers are entitled to receive a teacher award dedicated to the profession due to the stories that draw the attention of the jury with the evaluation of their success stories written by their students. Moreover, Cambridge University Publications published a book on the stories of 50 teachers from around the world.