A meaningful visit from EUL Art Club to the Turkish Resistance Organization (TMT) in Gemikonağı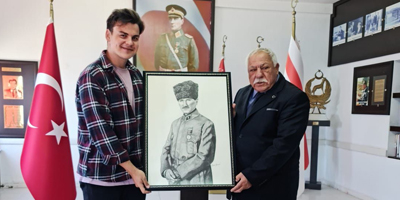 A meaningful visit from EUL Art Club to the Turkish Resistance Organization (TMT) in Gemikonağı
Head of Painting Club affiliated to European University of Lefke (EUL) Social Cultural Activities Directorate Tahir Demir and its members, Director of Social Cultural Activities Center Kezban Zurnacı visited the Turkish Resistance Organization (TMT) Mujahideen Association building in Gemikonağı.
The portrait of Mustafa Kemal Atatürk, drawn by EUL Painting Club President Tahir Demir, was presented to the Chairman of the Gemikonağı Mujahideen Association, Ahmed Ced.
Within the framework of the visit, the students had the opportunity to chat with the mujahideen of the region by getting information about the years and history of the Turkish Cypriot Struggle.
President Ced stated that he is extremely pleased with the meaningful contributions of European University of Lefke students to the association.