A panel on "Covid-19 Pandemic and New Normals" was held at EUL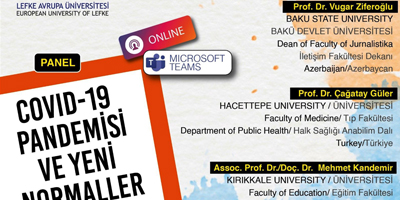 An international panel on "Covid-19 Pandemic and New Normals" was held by the European University of Lefke (EUL) Faculty of Arts and Sciences Department of Psychology. In the panel organized as part of the psychology days, the presentations including the "Covid-19 Pandemic New Normal", public health, the stress caused by the pandemic and developments in education were discussed.
At the event, Hacettepe University Faculty of Medicine Department of Public Health Faculty Member Prof. Dr. Çağatay Güler "Public Health After the Pandemic", Baku State University Faculty of Communication Dean Prof. Dr. Vugar Ziferoğlu "New Normal in Education" and Kırıkkale University Faculty of Education Lecturer Assoc. Dr. Mehmet Kandemir "Can Stress Become Friends?" They made interviews with the topics.
Güler: In the pandemic, every individual must question himself and do his part.
Stating that the impact of some natural events in human life from time to time cannot be avoided, Güler stated that the coronavirus epidemic is also experienced as one of the inevitable events that human beings face. While stating that the ability to think critically is important for the epidemic, Güler conveyed his views on how important points that public health experts have been trying to instill to the public for years, such as brushing teeth and washing hands, are included in our lives with the pandemic, but how long-term it will be. In his presentation, Güler explained that not only knowing or being able to tell about the precautions to be taken in health or pandemics, but also that these should become habits that we practice regularly in our lives, and that every individual should question himself and do his/her part in this regard.
Kandemir: Stress level being too low and too high harms the individual equally.
Kandemir, on the other hand, touched upon the stress caused by the pandemic process on people and explained the physiological, cognitive and behavioral components of stress. Kandemir explained that in addition to the negative consequences of stress, the stress experienced is also functional for the individual. In addition to these, Kandemir emphasized that a very low level of stress can be equally harmful as high stress, and emphasized the importance of the deficiencies in social relations that increase with social isolation during the pandemic process.
Ziferoğlu: The pandemic process of students in Azerbaijan was supported psychologically
In his speech, Ziferoğlu stated that the online education network was quickly put into use during the pandemic process, particularly in Baku University and across Azerbaijan Universities, and that students were supported academically and psychologically. Ziferoğlu stated that they are making efforts to ensure that students get through this process free from stress and difficulties.