Academician of EUL Faculty of Agriculture Alas made statements about Plant Genetic Resources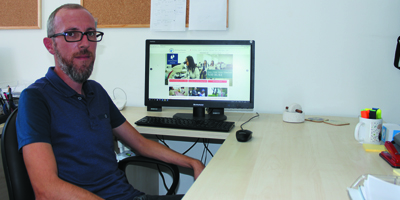 "Plant Genetic Resources are vital for the Agriculture in our Country"
Academician of European University of Lefke (EUL) Faculty of Agricultural Sciences and Technologies Assist. Prof. Dr. Turgut Alas made statements about "The Importance of Plant Genetic Resources".
Alas said that "The aim of agricultural production is to obtain the highest yield by providing the necessary inputs. Implementation of advanced techniques, meeting the needs of the rapidly growing world population, and developing new varieties are essential to ensure increased agricultural production" and added that plant genetic resources are the most important helper of these endeavours.
Genetic resources provide the formation of genetic diversity that is important for plant breeding
Alas stated that for years, soil, water and air have been considered as the main natural resource, but in recent years Genetic Resources have been added as the fourth fundamental natural resource and added that "Plant gene resources provide the formation of genetic diversity which is very important for future plant breeding studies".  He further stated that "Recently, the collection, conservation and utilization of genetic resources have gained increasing importance in order to increase agricultural production and to stabilize it at a high level" and added that in the recent past it was understood that the conservation of genetic resources should not be delayed any longer.
Alas said that "In our country, the collection, registration and preservation of genetic material, especially local varieties, is very important for agricultural production and research. Recording these gene resources and creating a database on natural resources will enable their use in variety development studies" and stressed that the characterization of the stored materials must be made in cooperation with universities, research institutes and other relevant institutions in order to be recorded.
Awareness of society about the importance of plant genetic resources is of great importance for the future of agricultural production
Emphasizing that as in other countries, conservation of local varieties in our country, sharing with producers when necessary and raising awareness of the society about the importance of plant genetic resources are of great importance for the future of agricultural production, Alas stated that "The aim here is to determine what local plants and gene resources (both cultivated and wild in nature) are, as in all developed countries". He also added that "Therefore, what needs to be done urgently is to make morphological and genetic characterization of local plants in our country, to identify those who are really our local gene sources and to register and obtain patents of these gene sources. Then, the reproduction materials to be taken from these plants are collected and renewed periodically and taken under protection in Gene Bank and Seed Bank" and added that by doing so a sustainable structure can be obtained for the future generations.
All interested parties should act in cooperation to protect plant gene resources
Alas said that "It is expected that 20 percent of global biodiversity will be lost by 2020 due to the continuous and improper use of natural resources as well as pollution caused by human activities. Conservation of plant gene resources is not only a biological situation. There are many different political, economic, social and even ethical aspects of this situation. Related practices are carried out by local governments, politicians, biologists, foresters, agriculturalists, engineers, ecologists, sociologists and economists" and emphasized that all interested parties should act in cooperation to protect plant gene resources.
Alas finally said that "As a result, plant genetic resources that can be used as a nutritional source, which are of great importance for breeding new varieties, and which will provide for the breeding of more resistant varieties to increase productivity, resistance to diseases and pests and to reduce the effects of adverse environmental conditions, are vital for the agriculture in our country".