An Exhibition on "Profiles of Cyprus Turkish National Struggle" Organized by EUL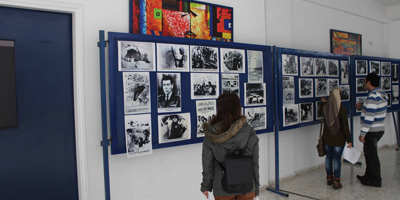 The memorial ceremony of "Honor to Our Martyrs" and an exhibition on "Profiles of Cyprus Turkish National Struggle" were organized by European University of Lefke (EUL) Faculty of Arts and Sciences. The retired teacher, Fadıl İncirli, has attended to the memorial ceremony which was realized in Rauf Raif Denktaş Educational Complex Conference Hall as the speaker.
The memorial program, following the National Anthem and the moment of silence, continued with the opening speech of Arts and Sciences Faculty Dean, Prof. Dr. Saadettin Yıldız. Yıldız, briefed on the period between the years of 1959-1964 and emphasized that "Today we do not desire quarrel but unity. We ask to leave together in peace and end the fight".
During the events occurred in 1963, İncirli indicating that he was then a third year student in Ankara University Faculty of Arts & Sciences Department of Mathematics, he was acknowledged about the situation in Cyprus via several news agencies. Also informing about the situation before the events of 1963, the massacre in Mora and Crete Island later explained about the struggles encountered after 1963 especially in the fields of economy, politics and military process.
During the ceremony, the documentary film, covering the 11 Turkish Cypriots who were lost during their voyage from Larnaca to British Base in Dhekelia on 13 May 1964, "Lost Bus" was screened. Also within the framework of the event, an exhibition on "Profiles of Cyprus Turkish National Struggle" was visited by the guests