An I-MAC LAB was Built at EUL with the Contribution of Telsim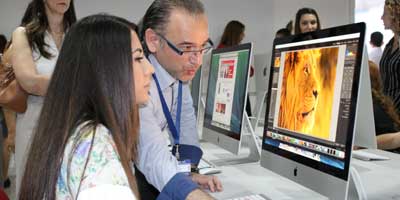 An I-MAC Lab was inaugurated in the Faculty of Communication Sciences with the contribution of Telsim with a ceremony at 11:00 on 28 May 2014.
Within the frame of the agreement signed in the previous months between Telsim and EUL, a new lab which can be used for visual and design works was brought into service.
In his opening speech, Prof. Dr. Mehmet Ali Yükselen, EUL Rector, extended his thanks to Telsim Family who contributed in setting up new technological facilities for the university and expressed his belief that the new lab will be used in line with the needs of students from different departments and it will serve for betterment.
Fevzi Tanpınar, Deputy General Manager of Telsim, stated that they are planning to keep producing projects in the field of education and their cooperation with the university will continue and they aim to increase the number of the activities which will bring students and technology together.
After the opening ceremony a cocktail was organized at the Faculty of Communication lounge.