"Asia Night" event has been organized at EUL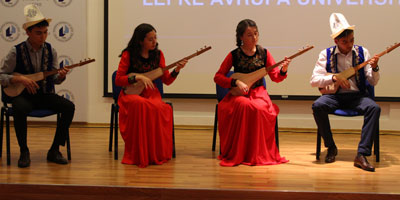 Asian countries' food cultures and folk dances have been introduced with events
With the support of External Relations Manager of European University of Lefke and Students Dean, "Asia Night" event has been realized by the Asian originated students who are studying at EUL. Colorful shows has been exhibited with accompany of cultural music in EUL Rauf Raif Denktaş Education Complex Conference Hall at that night.
To the event, besides the students that are mostly Asian and studies in EUL, the academic and administrative staff also participated.
At the Asia night, students have given information to the participants by introducing Azerbaijan, Kirghizstan, Uzbekistan, Tajikistan and Turkmenistan's natural, cultural, historical, tourist attractions, local clothes and food culture. After the introduction, students have shown different dance performances and shows with the accompanied with their own counties' music.
Appreciation certificates have been given to the students that have received participants' acclaim with the performance they have shown in the event at the night. At the end of the event, Asia origin students have celebrated their nights with accompanied with music in EUL Fun Club whose program is still continuing.