Atatürk was commemorated at EUL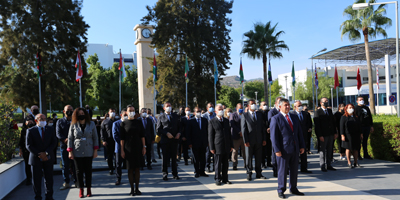 Founder of the Republic of Turkey Mustafa Kemal Ataturk's death's 82th anniversary commemorative program was held by EUL Faculty Arts of Sciences. University administration, faculty members, administrative staff and students attended the commemoration program held in front of the Atatürk Bust in EUL campus at 09:05.
The commemoration program started with EUL Rector Prof. Dr. Mehmet Ali Yükselen laying a wreath on Atatürk Bust, continued with a moment of silence and reading the Turkish National Anthem.
In the program, there was also a short speech by .head of the Faculty of Arts and Sciences History Department Assoc. Prof. Dr. Tayhani, about the meaning and importance of the day. "Today, we are on the 82nd anniversary of the death of Mustafa Kemal Atatürk, the prominent of those great people. He, together with the people he organized, saved the honor and dignity of the nation he came out of his bosom with a bloody struggle that lasted for three years, three months and twenty-two days, and restored them to their independence, and the transformations that the humanity of the world could only reach in a period of hundreds of years, fit fifteen years of his life, He awakened the Anatolian people who were sleeping, thus took his respectable place in Turkish and World History and left life (leaving life) on 10 November 1938 by establishing a throne in the hearts of millions "he said.
"The light of the revolution he made a hundred years ago still continues to illuminate the way for us and the humanity of the world." The "thought system" he left behind preserves its immortality. The secret of this intellectual immortality is undoubtedly "reason and science" and naturally placed reason and science at the foundation of the republic he founded 97 years ago. He, 'As a spiritual heritage, I am not leaving any strict (unchanging word), no dogma, no frozen and stereotyped rules. My spiritual heritage is science and reason … "he says. He concluded his speech by saying "This is the legacy he left."