"Ballad of Soul Folk Music Opening Concert" held at EUL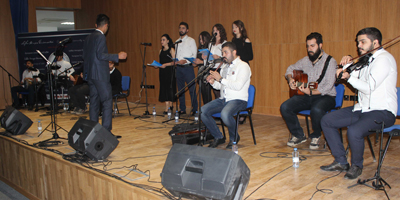 The Musical Colors Club of European University of Lefke (EUL) has organized "Ballad of Soul Folk Musical Opening Concert". Academicians and students were enthused to audit the concert which was held in EUL Law Faculty Conference Hall.
The Club Consultant, Assist. Prof. Dr. Ayşe Bengisoy, stated that the chorus which performed under the main theme of "Folk Music" have been formed by the students from various departments of EUL on the basis of volunteering, and the conductor of the chorus was an EUL student, Mustafa Ağlamış. Bengisoy thanked to the EUL administration as both the Administration and the Students' Dean Office have collaboratively provided the fund to grant the club with the instruments, which have resulted in a wonderful performance of the chorus over a long and hard work.
Bengisoy expressing that Musical Colors Club Chorus continuing their practices as polyphonic ensemble, has informed that the chorus will perform again on the "Çanakkale (Gallipoli) Martyrs Commemoration Program" with the folk music repertoire.