Certificate Ceremony at EUL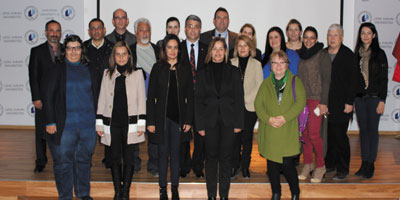 Teachers, who participated in the In-Service Training courses, which were held at the European University of Lefke, are given certificates with the event executed at EUL Rauf Raif Denktaş Education Complex Conference Hall.  EUL Dean of Dr. Fazil Küçük Faculty of Education, Assoc. Prof. Dr. Oğuz Serin, and instructors took part in the event.
Serin, who made an opening speech of the certificate ceremony, conveyed his thanks separately to EUL Rector, Prof. Dr. Mehmet Ali Yükselen, due to his contributions, and to EUL instructors, who contributed to in-service training seminars and workshops with valuable presentations by indicating that these types of activities were useful for the region and the local people and said that they would continue in the next period.
The participants were given the certificates by Assoc.Prof. Dr. Oğuz Serin and Prof.Dr.Ayşegül Ataman, Head of Special Education Teaching . The instructors, who participated in the courses, stated the pleasure in which they had by taking the education seminars at the end of the certification program, and they thanked to the University for inviting them to such organizations by coordinating such events