"Colour within Art" exhibition held at EUL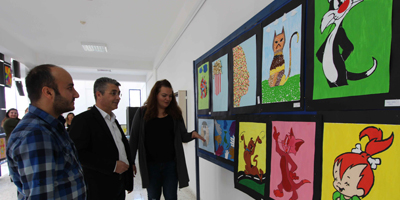 Pattern and Texture Works of Students Exhibited
"Colour within Art" themed art exhibition was organized at EUL by European University of Lefke (EUL) Dr. Fazıl Küçük Faculty of Education Department of Pre-school Teaching as a part of Visual Arts course.
Exhibition which was held at EUL Rauf Raif Denktaş Education Hall Lounge was conducted by Dr. Fazıl Küçük Faculty of Education Department of Pre-school Teaching Academician Lalehan Yarkın.
Before the opening of the exhibition, academician Lalehan Yarkın and Department Head of Pre-school Teaching Assist. Prof. Dr. Çağda Kıvanç Çağanağa made a brief speech. Yarkın stated the aim of the activity as revealing what can be designed with geometric shapes and to make textures, pattern studies in three dimensions.
Çağanağa, in her speech, explained art as knowledge and skills presented in a unique way, and she expressed that creativity and skills as well as knowledge were reflected in all the works. Within the scope of the exhibition she stated that charcoal tones, color cartels, design with geometric shapes, collage works for waste materials and recycling projects, color figure and tone works and texture pattern line works are prepared and exhibited. Çağanağa stressed that each of the works created by the students was of works characteristic of their own characteristics and creativity and she thanked the students and the faculty academicians who supported the exhibition.