Commune with Mehmet Günsür attracted great attention as EUL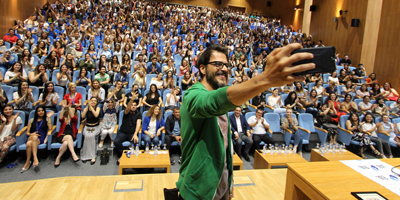 Famous Actor Mehmet Günsür came together with his fans
Famous guests are continuing to come together with their fans under the framework of European University of Lefke (EUL) spring interviews.
In the commune program which took place at EUL Faculty of Law Conference Hall, Günsür who has attracted great attention with the role of "Prince Mustafa" in the series "Magnificent Century", came together with his fans answer the questions addressed to him about acting.
Pointing out that his first step in media was when his aunt took him to take a role in the advertising sector when he was 7 years old, Günsür said that "It was the first time which I saw the camera and I really liked it. Acting was like a game and it was a great pleasure for me. It's not a profession that can be sustained without loving, I'm lucky that I'm doing something I love". Günsür stated that after a long time, when he was 11 years old, by means of the advertisement that he acted a part, the producer that knew him called him for a role in the series titled "Geçmiş Zaman Mimozaları" and added that this was his first job that had a professional sustainability and that he had the chance to work with great theatre players.
Günsür: When I spend a lot of time with a character, that character becomes something like my child
Günsür said that, "In 1996, after shooting "Hamam" movie, I decided for the first time that I was just going deal with working, and I ended up with acting, leaving all other work. I am so lucky that I have been able to sustain this profession for 22 years," and added that he spends a lot of time for each character that he acts and when he spends a lot of time with a character, that character becomes something like his child.
Pointing out that roles with music excites him and he has an affection for music in every sense Günsür said that the fact that music is harmonized with his profession makes him really happy. Additionally Günsür performed an Italian piece for the EUL students.
Günsür stated that he is very happy to be in EUL and added that his philosophy of life is sustaining a life as a nice person. Günsür also thanked enthusiastic crowd and took a live video with the students.
At the end of the interview a plaque which reflected the Cyprus Culture was presented to Günsür by Rector Advisor Assist. Prof. Dr. Mehmedali Egemen.