"Competition and Market Dynamics in TRNC" discussed at EUL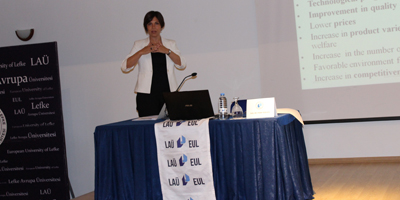 European University of Lefke (EUL) Faculty of Economics & Administrative Sciences Department of Business organized a conference themed ""Competition and Market Dynamics in TRNC".  Deputy Chairperson of the Competition Authority of TRNC Assoc. Prof. Dr. Figen Yeşilada attended the conference as a speaker.
Starting the conference with a brief history of the Authority, Yeşilada informed the participants about the responsibilities, authorities and duties of the Competition Authority by presenting the formation and functioning of the establishment with legal regulations.
Yeşilada stated that the Competition Legislation came into operation in TRNC after it was published in Official Gazette on 30 March 2009 following the approval of the General Assembly of Republic Assembly on 16 March 2009 in accordance with the relevant legislations of the European Union and that the members of the Competition Authority were appointed with the decision of the Council of Ministers dated 22 December 2010 and that they started their duties at the beginning of 2011. Yeşilada also explained that the Authority consists of 5 members as the legislation suggests and that these members are elected from two of each candidates that Ministry of Economy and Energy, Ministry of Finance, Turkish Cypriot Bar Association, Turkish Cypriot Chamber of Commerce and Turkish Cypriot Chamber of Industry put up. She also pointed out that the Authority is independent and impartial in its functioning, that it fulfills its duties with the authority given by the law, fulfills its duties at equal distances to all the transactions and every decision taken.
Under the framework of the conference, Yeşilada emphasized the importance of increasing the economic efficiency and consumer prosperity, ensuring an effective competitive environment and promoting the sustainability and creating and developing the competition culture in the country by looking at the sample Authority examples.
The importance of paying attention to the rules that regulate the competition between the leaders of the future, students and their rivals was also emphasized in the conference which attracted the intense participation of the students.