Conference entitled "Turkish Penal Code in the Supreme Court Practices" was held in EUL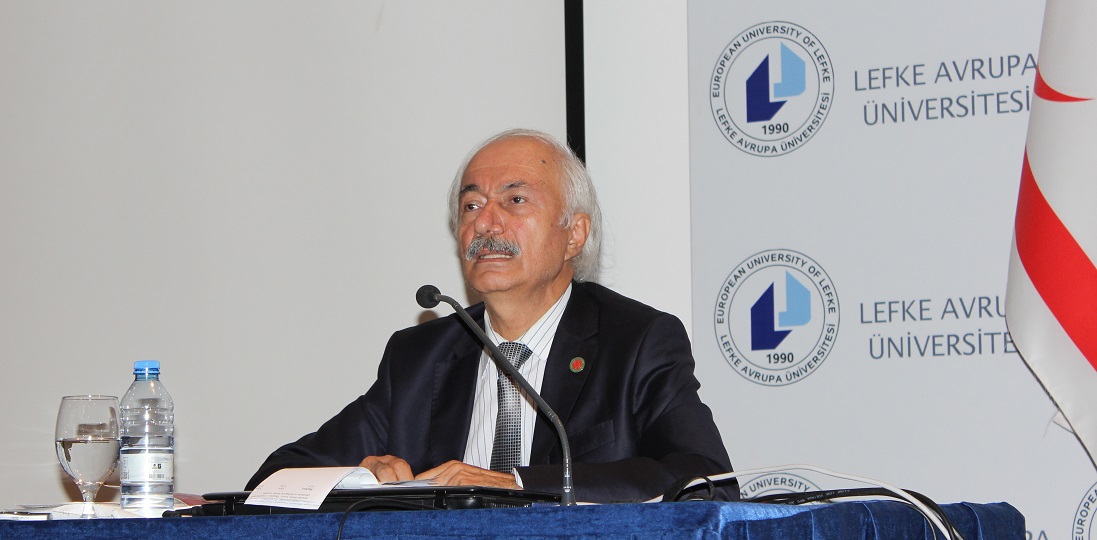 "Turkish Penal Code in the Supreme Court Practices" conference was held by the Faculty of Law and Law Club of European University of Lefke (EUL).  8th Head of Penal Chamber and Chancery, Sedat Bakıcı attended to the conference as a spoke person, which was held at EUL Dr. Fazil Kucuk Educational Complex Conference Hall.
Bakırcı, who gave examples from peoples' lives, remarked that he has more than 70 professional research and memoirs so far.  Apart from these, he said that he presented assertation in many national and international seminars, conferences, symposia and panels.
Bakırcı, who emphasized Juridical and Prosecution Professions, remarked that people working in the field of law need to be aware of their profession and perform their work with passion.  He also stated the fact that people who work in the same fields have also same conditions.  "If you perform your job with your love and see people equal then you behave like a real lawyer" he said.
Bakırcı put into words as "Our goal is not criminalize or punish, it is to do research by showing empathy", by making suggestion to students.  He said also that it is needed to be well researched and revealed why crime was committed.  Sedat Bakırıc, who put emphasis on the fact that it is necessary to calculate the degree of the crime and give an appropriate penalty when applying punishment in any case, said that if the same penalty is applied to all criminal action then that would disappear justice.
As a final note, Bakırcı, who also mentioned about cyber crimes, these crimes occurred frequently in recent years with the development of technology.  He also pointed the fact that due to the lack of any deterrent penalties, these crimes will increase in number.
8th Head of Penal Chamber and Chancery, Sedat Bakıcı, who gave many advice to students about the education they receive, said "'You've made a good choice by choosing the Law Profession" by particularly noting that the education  received in the universities is very important.  "Know the value of a good education because you should be aware of studying in such a good university", he said.
Sedat Bakıcı was presented certificate of appreciation by the Faculty of Law, faculty member, Prof. Dr. Tayfun Akgün while conference was lasting after question and answer session.