Conference on Effective Presentation Techniques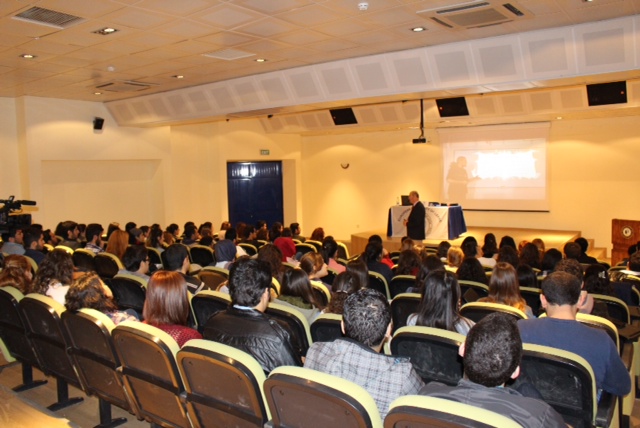 A conference titled "Effective Presentation Techniques and Emotional Intelligence" was held at EUL by the Nutrition and Dietetic Club. Assoc. Prof. Dr. Bülent Şen participated in the Conference held at EUL Cinema Hall.
Şen informed students on different issues such as presentation techniques, preparation stage of a presentation, use of different materials and body language without anxiety and said "If you are making preparations for a presentation on a topic, your priority should be creating a difference while delivering it".
He explained that presentation preparation should involve the following stages: determining the aim of the presentation, outlining, getting familiar with the materials to be used, the venue and the audience.
Şen also added that use of visual and audial tools makes a speech more effective and attract attention of audience and helps keeping their attention at the highest level. He stated that presentation techniques should be used effectively during the preparation stage; additionally, font size should be 36 and each slide shouldn't have more that 6 lines.
Lastly, he provided some information on the techniques how to address a group of people in general and emphasized the fact that customized presentation techniques will both boost the effectiveness of a presentation and motivate the audience.