Conference on "Sustainable Materials" held in EUL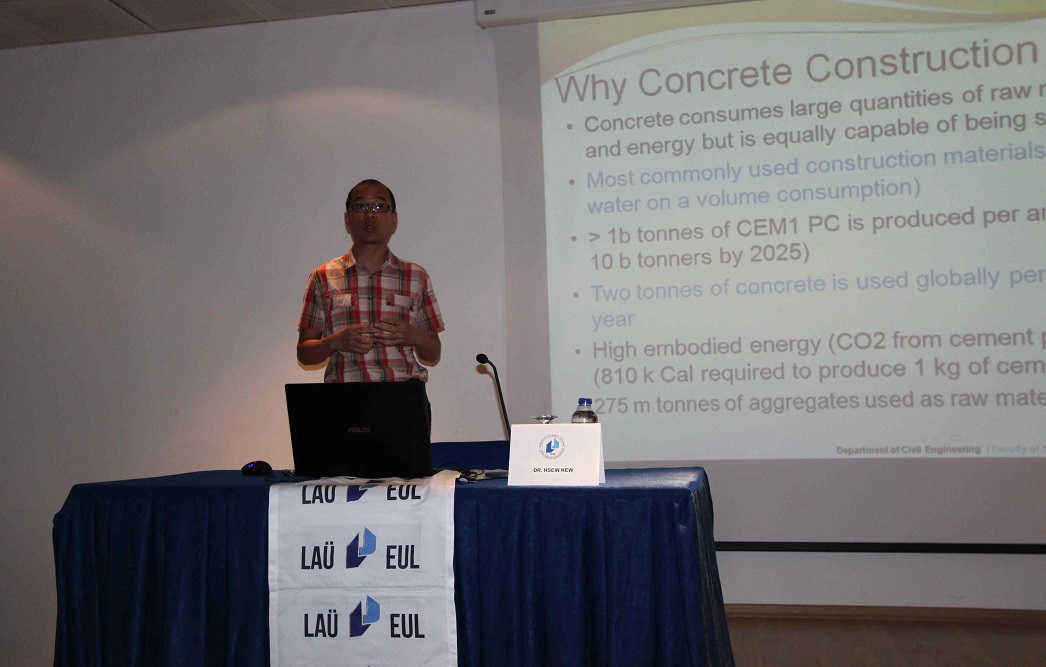 "Sustainable Material"  themed conference was held by European University of Lefke (EUL) Student's Dean Office and Civil Engineering Club. Kingston University, Lecturer Assoc. Prof. Dr. Hsein Kew attended  the conference held in EUL Cinema as a speaker.
Club Chair Assist. Prof. Dr. Şevket Can Bostancı gave an introduction speech and he also emphasized that the club has an active structure and he aimed to give information about both practical implications of engineering applications and current applications in building trade with informative presentations to students since last year. In accordance with his speech Bostancı emphasized that, recycling is one of the most important factors for both our country's and world's construction sectors and said that the panel has a great meaning for the students.
Kew: Car tyres can be used instead of bank gravel and sand while building concrete barriers.
Kew shared how leading countries evaluate the construction wades and the policies they follow with the students and he also emphasized that importance of evaluating the construction wades for posterity to have the natural resources. Kew said that recycled glass bottles and car tyres can be used in concrete production and stated that instead of concrete barriers that started to be used frequently in our country, car tyres can be used as aggregate instead of bank gravel and sand which would also reduce the influence of crash in the moment of collision.
Kew exchanged his ideas with EUL Civil Engineering Faculty Members and emphasized that 4th grade of Civil Engineering Department students have learnt measuring the influence of the glass-making sand while making concrete. He also pointed out that matters such thermal conductivity, water permeability and non-destructive testing can provide important information to the literature.
A Certificate of Participation was presented to Kew by the Faculty of Engineering Deputy Dean Assist. Prof. Dr. Ertuğ Aydın at the end of the conference.