Conference on "Understanding Life" was held in EUL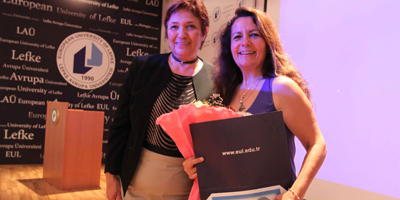 A conference on "Making Life Meaningful" was organized by the Faculty of Pharmacy of European University of Lefke (EUL). Consultant, Behavioral Sciences and Management Consultant (Executive & Mental Coach), Management Development and Intellectual Coach Aysim Altay participated as a speaker.
Altay: Life is beautiful at the level we can see the beauties of life
Altay, who has many books and articles such as 'Yaşam Kaçtı Gözüme', 'Yüreğin Sacayağı' ve 'Madem Öyle Polyanna', has advised on sports teams and sports clubs in areas such as increasing the motivation of athletes and using their potentials more accurately.
Altay underlined that the definition of freedom is beautiful in terms of life, the beauties of life that we can see in life by making it 'to do what you love and to live the moment'. Altay explained that people without problems about defeating difficulties were more successful, giving examples of their own life experiences.
Suggesting that young listeners should postpone life, make their life memorable, and do what they want to do later, Altay emphasized the importance of spending quality time in doing activities that they love.
At the end of the activity, the Faculty of Pharmacy Professor. Dr. Rümeysa Demirdamar presented Aysim Altay with a certificate of appreciation and flowers.