Detergents, disinfectants and cleaning products that we use unconsciously for hygiene purposes threaten our health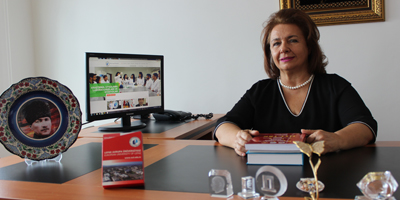 Director of the European University of Lefke (EUL) School of  Health Prof. Dr. Deniz Şelimen gave detailed information about the negative effects of detergents, disinfectants and cleaning products we use for hygiene purposes on our health.
Şelimen stated that the issue of hygiene and cleanliness, which is always important for a healthy life and environment, has gained greater importance with the impact of the Covid-19 pandemic in every region of the world and the introduction of measures regarding "hand hygiene, mask use and social distance".
"However, the increase in the consumption of disinfectants, detergents, bleach, vinegar, cologne and other chemicals, which are used in excessive amounts for cleaning and disinfection with the effect of the fear of death and panic caused by the virus, negatively affects human health and nature," Şelimen said. He drew attention to the fact that excessive and incorrect use of these substances causes the emergence of other serious health problems besides allergic diseases.
Şelimen: Bleach and detergents should not be used more than the recommended amounts, considering that they will be more effective.
Şelimen, "Cleaning with chemicals that have the potential to irritate the respiratory tract, especially with bleach," may cause allergic rhinitis, contact dermatitis and toxic effects, as well as an increase in respiratory complaints in patients with chronic respiratory diseases such as asthma and COPD. Long-term contact with harmful substances in the air during the use of bleach and disinfectants damages the respiratory tract and respiratory system, and also poses a risk for lung cancer due to its carcinogenic effect. In addition to these effects, depending on the method of use and the duration of exposure, symptoms such as headache and fatigue are seen ".
Şelimen, since the use of these substances in closed environments increases the risks even more; Stating that the environment must be well ventilated during and after use, bleach and detergents should not be used more than the recommended amounts, considering that they will be more effective, and care should be taken not to contact the skin and mucous membranes.
Şelimen said, "Another important mistake made is the use of several chemicals together, with the thought that it would be more effective. Such use does not increase the effect, on the contrary, it brings serious problems for health, and the antimicrobial effect expected from the disinfectants used together deteriorates. It is used by mixing salt spirit and bleach in order to provide a more effective Hygiene. However, it should not be forgotten that as a result of mixing these two substances, chemicals that may pose a serious risk to life may be released ". Şelimen stated that during the pandemic, the rate of using vinegar, which is known for a long time, is increased, but the use of vinegar with bleach is wrong and dangerous in terms of the chemical reaction that will occur, and another drawback of this mixture is that the cleaning process will be ineffective as these two substances will neutralize each other. She stated that therefore, vinegar and bleach should be used separately.
Şelimen said, "Another important issue is about hand washing. One of the most important measures in preventing coronavirus is to pay attention to hand hygiene, and the recommended practice for hand hygiene is washing hands with soap for at least 20 seconds. In places where hand washing is not possible using soap and water, we can use disinfectants and colognes. Frequent washing of hands, continuous use of chemicals such as hand disinfectants and cologne can cause dryness, cracking, itching, dermatitis, eczema and wounds on the hands. If these complaints are not treated in a timely manner, medical assistance should be sought as they may lead to increasing problems. "Avoiding the use of unnecessary disinfectants as a precaution and applying a moisturizing cream to the hands after washing will help reduce the problem."
Şelimen: Alcohol-based disinfectants should be used, non-alcoholic disinfectants should not be used unnecessarily.
Şelimen said, "Another issue to remember is that bacteria and viruses are not the same, Covid-19 is a virus and alcohol-based disinfectants should be used for protection. Disinfectants that are sold as antibacterial and that do not contain alcohol should not be used unnecessarily. The alcohol ratio of the substances we use as cologne should be between 70 and 90 degrees, and the bottle should not be left open after use, as the alcohol content will evaporate rapidly, and its effect will decrease. Products that have expired should not be taken and should be consumed within the period specified by the manufacturer on their packaging. In addition, while purchasing these substances, the labels should be read, information about the correct use of the product should be obtained, nature-friendly products should be chosen as much as possible, random products should be avoided because of their cheapness, and products with a certain manufacturer should be used. "Chemicals produced outside of the standards are toxic and their frequent use causes damage especially to the liver," she said.
Finally, in anti-virus protection; It should not be forgotten that the best way to provide personal hygiene including hand cleaning is water and soap, and the use of chemical products should not be used unconsciously, saying that there is no need for disinfection, especially when spending time at home and not contacting other people. She also drew attention to the fact that cleaning the gardens, balconies and doorfronts with disinfectants will harm the nature and cause the emergence of new resistant microorganisms. Şelimen said, "Again, using disinfectants in the form of spray in our cars and constantly spraying them into cars will irritate the respiratory tract and pose a risk for lung diseases and lung cancer. Pregnant women and nursing mothers should be very careful when using chemical products and not breastfeed their babies in an unventilated environment after cleaning. Likewise, the use of these chemicals should be done very carefully in the playgrounds of babies and children. "She stated that the use of chemicals that we need to know is not more protective, but invites various diseases and serious health problems.