The 24th Independence Day of Kazakhstan celebrated at EUL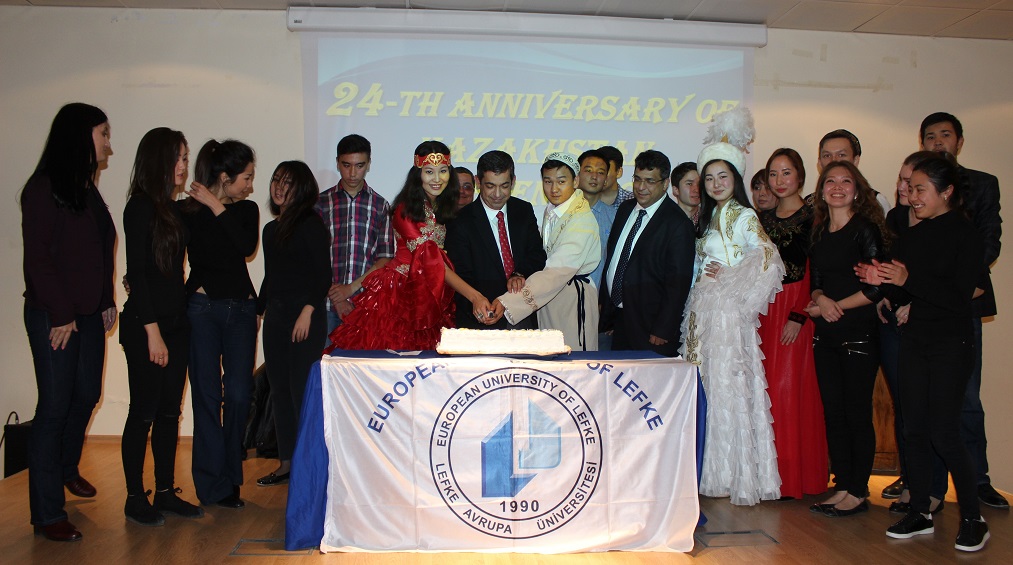 The Kazak students of European University of Lefke have celebrated the 24th Independence Day Anniversary of Kazakhstan with various events.
The Rector of EUL Prof. Dr. Mehmet Ali Yükselen, Vice-Rectors Assoc. Prof Dr. Alkın Cellatoğlu and Assoc. Prof. Dr. Carolina Smochina, Students' Dean Özgür Yılmabaşar, The Head of Arts and Sciences Faculty- Turkish Language and Literature Assoc. Prof. Dr. Nazım Muradov, Foreign Affairs Director Kezban Zurnacı, Director of Press and Public Relations İsmet Yücefer and students have participated to the event which was held in EUL Cinema Hall.
The celebrations have initiated subsequent to the moment of stance, Kazakhstan National Anthem and various slide screenings. Various presentations in line with the founding history of Kazakhstan, introduction of various cities, history, culture and customs were presented.
Various sweets and traditional Kazak cuisine and drinks were introduced to the participants. The habited Kazak students have also performed folkloric dance to the audience thus introducing their culture to the EUL students who have come together from different countries.
During the celebrations, EUL Rector Prof. Dr. Mehmet Ali Yükselen has cut the Kazakhstan colored cake accompanied by the Kazak students. The celebrations have continued with the various competitions organized by EUL Fun Club and also the traditional dances of Kazakhstan.