Charity Fair for the Animal Shelter Organized by EUL Students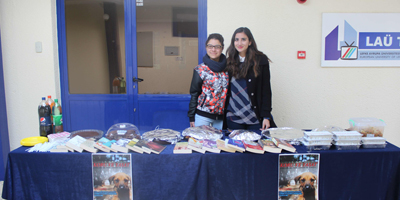 European University of Lefke (EUL) Faculty of Communication Sciences, Department of Public Relations and Advertising, has organized activities for senior citizens to benefit the animal shelter in Nicosia.
'Ceramics will be laid for the dogs"
İlmiye Yaded and Gizem Çaluda, senior students of the Public Relations Department, gave information about the social responsibility projects and expressed that the project consists of two activities as food and charity fair. It is stated that the aim is to lay ceramics on a part of the animal shelter in Nicosia, and that they organize this project in order to make it easier to clean the shelter.
Attracting attention to the necessity of giving the necessary admission to street animals, the students added that the income from the sale gathered from the charity fair was planned to buy shelters for the dogs.