Conference Titled "Social Brain" at EUL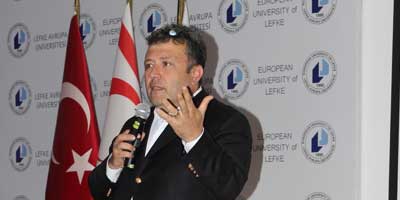 A conference titled "Social Brain" was organized by the Department of Classroom Teaching, EUL Dr. Fazıl Küçük Faculty of Education.
Prof. Dr. Soner Yıldırım from the Department of Computer Education & Instructional Technology, Middle East Technical University delivered a speech at the conference held at Rauf Raif Denktaş Conference Hall.
"We are much more concerned with 'teaching' as academicians or teachers. However, 'learning' is a totally different process" said Yıldırım. He added that it is the only activity which cannot be hindered during the period from birth till death.
He said that our habits, research tendencies, learning and study methods have quickly been changing due to the current dynamic era and the technological advancements come along with. He also provided information about the norms of "effectiveness, accuracy and ethics" related to the use of technology.