"Different Shades of Architecture" was discussed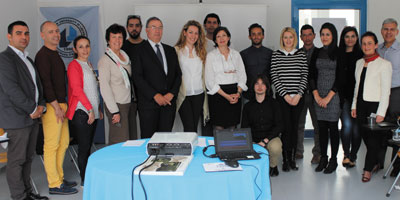 As a scope of the activities under the name of "Joint Design Studies", which was held by the European University of Lefke, the Faculty of Architecture,  Faculty of Architecture graduate and doctoral students made presentations and round table meeting under the title of "Different Shades of Architecture in 21st Century".  Presentations made in various fields to discuss the scope of the current state of architecture as a scope of Architecture Theory course, which started with the opening speech of  Dean of the Faculty of Architecture Prof. Dr. Mesut Birgöl Özdeniz.
Presentations made on the subjects at the meeting: Kostiantyn Tormashev "Born to Consume: Agreement Between consumerism & Pragmatism" (To be born to Consume: Agreement Between Consumption and Pragmatism), Feriha Urfalı "A Real Case: Rem Koolhaas" (A Real Case: Rem Koolhaas), Mustafa Akartuna "From Past to Present: Different Circumstances Similar Results / Pessac & Nicosia " (From Past to Present: Different Terms Related Results / Pessac & Nicosia), Ersan  Öksüz  "Naming the Architecture of Today's Practise "(Naming the contemporary Architecture of Today's Practice ) made  on the subject.
Right after the presentations made, round table meeting took place moderated by Asst. Assoc. Dr. Erçim Uluğ. The Head of the Architecture Depratment, Assoc. Dr. Lerzan Aras, who provided information about the topics discussed at the round table, stated that academicians, professional architects, particularly young architects, who now continue to their academic life, and the members of Cyprus Chamber of Architects participated in the meeting. Aras, who remarked that they discussed with the participants on the issues as: where architecture is going, which stages it passes through, what happened in architecture especially after 1960s, which point it can go to and new ideas, and added as " "We aim to take lessons from these by discussing these issues."
On the other side, Uluğ, said that  "We held a meeting shed light on in terms of the inquiry of  products' quality and the meaning, which we created/or we will create in Architecture, by stating that the three-hour round table meeting created an intellectual debate atmosphere with the contributions of  academic and professional platforms.