Effective study techniques explained in EUL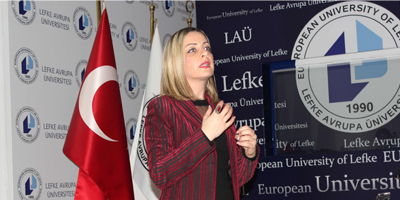 A conference on "Effective Study Techniques and Methods of Responding with Examination Anxiety" organized by European University of Lefke Dr. Fazıl Küçük Education Faculty Guidance and Psychological Counseling Department was presented by Lecturer Assist. Prof. Dr.  Emre Ece Müezzin.
In the event,  Müezzin provided information on efficient course work techniques, examination anxiety and ways of coping with examination anxiety, reasons and effects. Müezzin categorized the efficient course work techniques as follows: goal setting, planned study, and efficient use of time, efficiency reducing factors, appropriate working environment, and participation in lesson-taking notes, efficient reading, repetition and attention. Muezzin told the students that they should determine their close and remote goals and work in a planned and programmed manner in line with these goals.
Anxiety is the end result of the individual's negative thoughts and is not a real danger
According to Müezzin, anxiety is a state of alertness that manifests itself with physical, emotional and mental changes that one has experienced when faced with a stimulus. The difference between anxiety and fear is, "In fear, there is an important aspect that threatens the integrity of the individual, a real danger is the issue and more intense than worry. Anxiety is the result of an individual's negative thoughts, not a real danger. "
Müezzin described the examination anxiety as fear, anxiety and discomfort before, during or after any examination. Müezzin said that the reasons for the examination anxiety are: mismanagement of time-saving use, lack of regular working habits, perfectionism, unrealistic expectation level, postponement of tasks and responsibilities, lack of physiological requirements such as insomnia, balanced nutrition, fatigue and negative thoughts and its varieties. Müezzin said the effects of examination anxiety are: difficulty in understanding the reading, difficulty in organizing information, learning in mental skills and learning, weakening of memory functions, difficulty in transferring learned knowledge, difficulty in collecting and maintaining attention.
At the end of the conference, Müezzin conducted exercises with the students to show how to cope with examination anxiety.