EUL academician drew attention to "Patient Rights"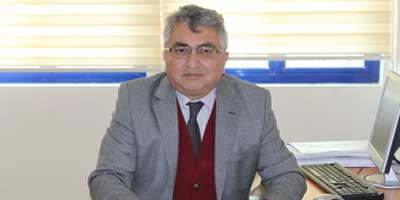 "Patient Rights: the most important practice of Human Rights and Right to Health" said Tabak.
Prof. Dr. Ruhi Selçuk Tabak, Director of EUL Vocational School of Health Services, made some statements on the occasion of "26 October Patient Rights Day".
Tabak stated that 'Patient Rights' which constitutes all the the rights and responsibilities that can be put forward against health service providers in order to solve individuals' health problems. Tabak defined 'Right to Health' as "Individuals' right to demand health care from the community and state and to be able to benefit from opportunities provided by the community for sustainable health promotion."
Patient Right practices: A measure for the value given to human
Tabak said that proper use of Right to Health which is a fundamental human right can be best observed in Patient Rights and added "creating public awareness and informing the society about health in general and patient rights in particular are the main responsibilities of health and education institutions in the very first place, and all the organized powers of the society and community leaders." Tabak emphasized the necessity that medical staff should serve with an awareness of the patient rights and defend those rights on behalf of patients; he also added that patient rights practices are real indicators and best measure for the value given to human.
Tabak stated that there are some predefined rights that should be recognized by all segments of society, and then he listed those rights as benefiting from health services in general, equal access to health services, informing society about health services, choosing the health institution and changing it, requesting information, privacy, consent and approval, rejection and retention, security, practicing religious duties, being respected, comfort, right to complain and sue, and continuous service.
"Patient Responsibility"
Tabak also mentioned patients' responsibilities to be fulfilled in order to benefit from these rights effectively and properly as follows:
Doing best to keep healthy and pay attention to the advices for a health life,
Making blood and organ donation if possible,
Self-care in non-urgent conditions,
Notifying authorities about changes in health, security and personal details,
Providing information about complaints, previous diseases, inpatient treatments received, medicines used, and complete details regarding one's health,
Complying with the rules and procedures of the health institution applied,
Complying with the referral chain,
Being in cooperation with health workers during treatment, health care and rehabilitation,
Complying with appointment date and time and notifying the authorities of changes if benefiting from a service of an appointment based health care institution.
Lastly, he said that it is a social responsibility that rights expected to be offered by the society and the government are given to the individuals in an honorable way just because those individuals are human beings and he invited everyone to fulfill this responsibility.