EUL construction students made analysis in technical tour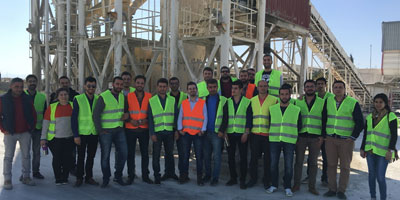 Civil Engineering Club of European University of Lefke has organized a technical tour to OMIX ready-mixed concrete plant together with Club's Consultant Teacher Assist. Assoc. Dr. Şevket Can Bostancı. In the tour, Civil Engineering students have found an opportunity to observe the works that are undertaken in EUL laboratory. The students have also found a chance to consolidate their theoretical information.
Especially the students that are in graduation stage have consolidated their information by seeing concrete laboratory works during their educations. In the tour, the students that saw the works and quality controls' in place have examined how production of concrete is made, the details of the automation program that is being used, how the process is being completed.
Also the laboratory tests of area and all other raw materials' that comes to the plant has been explained to the students. Later, sieve analysis, production of concrete, sampling and Methylene Blue tests has been done together with students.
EUL Civil Engineering Club students stated that the tour gone very efficient and conveyed their thanks to OMIX company for sharing their detailed works and information.