EUL Faculty Member Eren expressed mother-infant relationship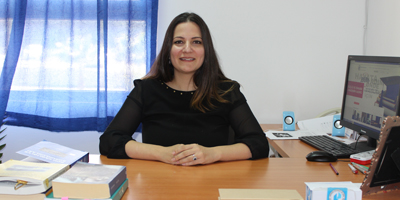 European University of Lefke (EUL) Faculty of Science and Literature -Department of Psychology, Assist. Prof. Dr. Enil Afşaroğlu Eren, informed about the psychological development of children between the ages of zero and three.
Eren pointed out that the most basic emotional needs of babies between the ages of zero and three are to form a bond to a consistent, reliable and constant figure, and that these figurines are usually mothers and that children through this bond are tend to become autonomous over time.
Eren emphasized the importance of the early years especially in the emotional and cognitive development of the child and said that studies have shown that in the infancy and early childhood period, the lack of adequate and suitable stimulant of the children can permanently blind the brain and also said that the children were as well exposed to technological tools such as television, telephone and tablets.
The first bond between the mother and the baby is an example for future periods
Eren said that the child's brain development is influenced by the child's nature, biology, genetic structure and living conditions at the same time. Eren underlined that face-to-face communication between the mother and the baby is the cause of emotional communication between the two and a strong dependable connection. Eren stated that this primary attachment pattern between the mother and the infant is an exemplary prototype for later life, and is also reflected in relationships in adulthood.
Lastly Eren said, it is necessary for the baby to be sensitive to the needs of the baby, to interact with the baby, to be interested in the baby's smile, contact, embrace, movements and reactions, so that a mother who can embrace and embrace her baby can raise a sensitive individual who is sensitive to oneself and others.