EUL Gastronomy students are learning the Cyprus Cuisine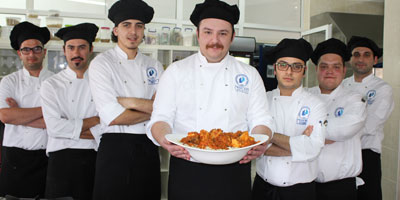 Freshman year students of European University of Lefke (EUL) School of Tourism & Hotel Management Gastronomy Department are learning the unique tastes of Cypriot cuisine within the context of "Culinary Arts 1" course. Accompanied by the Department of Gastronomy Lecturer Zihni Türksel, the students cooked and served "Magarına Bulli", one of the unique tastes of Cyprus.
Explaining that in EUL Gastronomy Department, with students from different countries, the techniques and terminologies of international cuisines are described in the context of theoretical courses and in EUL Gastronomy Kitchen these techniques are demonstrated to the students in practice, Türksel stated that they are teaching cooking techniques by having students do several practices in the context of Culinary Arts 1 course.