EUL is supporting Local Events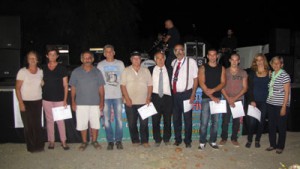 The Department of Gastronomy of the EUL has contributed to the 1st Verigo Festival held by the Yeşilırmak-Yedidalga Manufacturers Association on 27-28 September. The jury of the competition which was held under the framework of the festival was chaired by Zihni Türksel from EUL Gastronomy Department and EUL students Emrah Artu Çiftçioğlu and Adem Kervan were the jury members.
In the competition which consisted goods such as paluze, sucuk, pekmez, and zivaniya which are the local products of Verigo Grape, "Rozaki" nicknamed grape won the first place with 278 points, "Wild" nicknamed pekmez won the second place with 275 points and "Siya" nicknamed paluze won the third place with 273 points.
Türksel stated that all the products were really high quality and that the products which were not ranked were also very nice and they said that while participating in such a competition, not only the quality of the product but also the presentation and hygiene of the product were very important for the jury.