EUL students cleaned rubbishes on Gemikonağı coastline with "Today for Tomorrow" slogan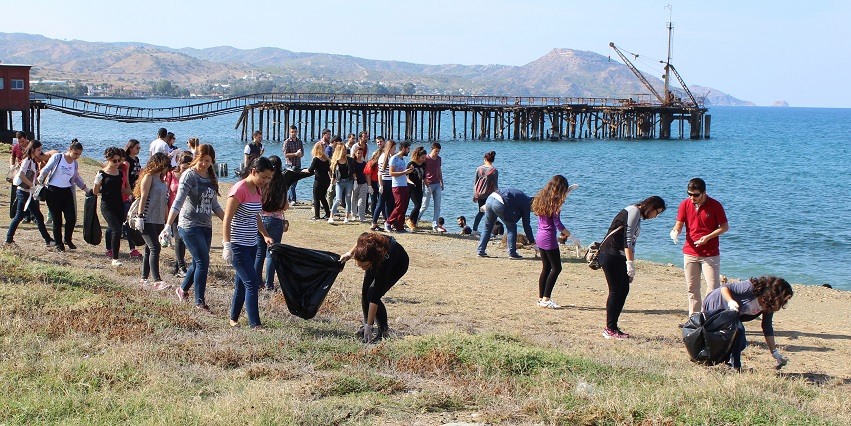 A Representative behaviour from students
  European University of Lefke (EUL) Dr. Fazıl Küçük Education Faculty, Guidance and Psychology fourth year students were organized environmental cleaning activity with "Today for Tomorrow" slogan within the scope of Social Service Practices course, which was carried out the faculty member of Dr. Fazıl Küçük Education Faculty, Assist. Prof. Dr. Tuba Gökmenoğlu.  Gökmenoğlu and students cleaned rubbishes thoroughfully under the scope of the project starting form Gemikonağı shoreline until Cengiz Tope Monument.
Gökmenoğlu, who stated that they organized such an activity in order to be a representative and also create conscious on environment cleanliness for public of the region with the help of the students, remarked that their purposes were beside to educate teachers for the future, who are sensitive to the environment and to create a liveable environment conscious for everyone.   "Public supported our students with their applauses and appreciations while the activity called cleaning rubbishes was continuing with the great participation of our students" said Gökmenoğlu.
Students who attended to environment cleanliness said these below:
"Let's get hand in hand for clean environment"
Büşra Özcan: We as EUL students aimed at being good representatives for our friends and the public by cleaning Gemikonağı coastline.  I am thinking of everybody should come together hand in hand and work for a clean environment.
Yeşim Mert:  We arranged an environment cleaning activity within the scope of Social Service Practices course in order to draw attention on the fact that everybody has right to live in a clean environment.    We were appreciated by the public of Gemikonağı with the organization that we actualized.  That made us happy because we witnessed that what we did was successful.
Mustafa Kıvanç:   One of the most important problems in today's world is environmental pollution and we as students are trying to get attention on the importance of environment cleanliness by doing our responsibilities and creating public conscious because each good deed is a good example.
Cleaning act that the students started from Gemikonağı shoreline ended by cleaning Cengiz Topel Monument area.