Great Success by EUL Engineering Faculty students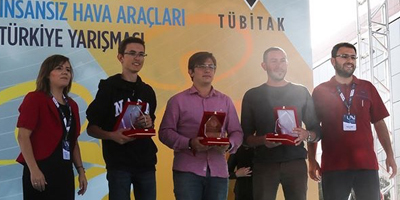 EUL ranked 2nd runner up in International Unmanned Ariel Vehicle Competition (International UAV TURKEY 2016)
European University of Lefke (EUL) ranked the 2nd runner up, returning home with a cup and 6 medals competing in the 1st International Unmanned Aerial Vehicle Competition (International UAV TURKEY 2016) organized by The Scientific and Technological Research Council of Turkey (TUBITAK).
The EUL- TÜBİTAK UAV TURKEY 2016 project team consisted of Member of Computer Engineering Faculty Assist. Prof. Dr. Cem Kalyoncu, Research Assistants Ahmet Yaşlı, Diyari Hassan and undergraduate students Batbuk Ganbat, Mustafa Can Görücü, Anıl Mumcu, Caner Demirtaş and Alpaslan Gökçen.
The competition took place on a 4 target, 35 meters in length runway in Gebze Technical University with 20 high definition cameras mounted on the contest runway to record each movement of the unmanned aerial vehicles. The contest which takes place under two categories; fixed wing aircraft and rotary wing aircraft, was participated by 103 teams from Germany, England, Poland, Azerbaijan, Bangladesh, Estonia, Qatar, Turkish Republic of Northern Cyprus, Romania and Turkey. Playing all their cards to take place on the ranking board, out of 102 contestant countries EUL ranked 2nd runner up and became 3rd in the UAV contest.