Commemoration Ceremony for Mevlana Sheik Nazım Kıbrısi…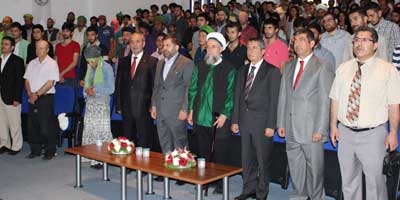 A commemoration ceremony for the Naqshbandi Tariqa leader Mevlana Sheik Nazım Kıbrısi, an important figure in Islamic world, was held by the EUL Young Leaders Club. Prof. Dr. Mehmet Ali Yükselen, EUL Rector; Mehmet Zafer , Major of Lefke; Dr. İbrahim Benter, General Director of Cyprus Evkaf Foundation; Ahmet Durmuş, the Counsellor of Religious Affairs from the Turkish Embassy; academicians; students and a lot of followers of the late Sheik attended to the programme.
Sheik Mehmet Adil, son of the late Sheik Nazım Kıbrısi, expressed his gratitude for the diligence of the university and students for organizing such an event. "If you ask me about Sheik Nazım, I would say he was the one we needed.  With his knowledge of physical and spiritual world, he was one of those rare people that we could call "the successor of the prophet" said Adil and emphasized the fact that Sheik Nazım had always given so much importance to the eternal life in his talks.
Sadıkoğlu from MUSIAD said that it is difficult to describe him; everyone has had a memory about the Sheik and he has a very important place in people's hearts. Sadıkoğlu stated that besides having taught people, Sheik Nazım won people's hearts via his small talks. He also added that the Sheik used to see people, even those who wished harm on another, through a window of mercy