"Law on Violence against Women" discussed in EUL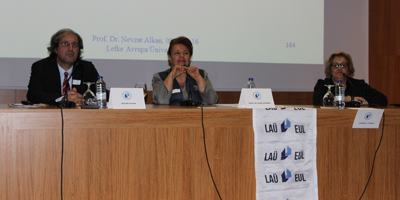 The panel on " Law on Violence against Women " by European University of Lefke (EUL) School of Health took place at EUL Faculty of Law Amphitheater. The EUL Higher School of Health Director Prof. Dr. Deniz Şelimen has moderated the panel which was attended by Member of the Board of Istanbul Bar Adv. Aydeniz Alisbah Tuskan and The Head of Istanbul University Istanbul Forensic Medicine Department Prof. Dr. Nevzat Alkan; as the speakers.
Speaking at the opening speech of the panel, Şelimen said that prior to many countries in the world, Turkey was first to grant the right to elect and be elected. Şelimen also added that; "If we are still speaking about violence against women here today and if we are still talking about the equality of women, then we have not tried enough."
Following the opening speech at the panel, a plaque was presented by Adv. Aydeniz Alisbah Tuskan on behalf of the importance of the day to the first woman President of the Assembly of the TRNC, Dr. Fatma Ekenoğlu.
Tuskan: The greatest injustice women are subjected to is violence
Tuskan stressed that equality should not be construed solely in the context of legal and non-discrimination prevention, but should be interpreted as individuals who actually participate in the development process of women, in means of acting for their equality in rights, responsibilities and opportunities. Tuskan defined the discrimination against women as follows: any discrimination, deprivation and restriction made on the basis of sex, which hinders the use and ability of women's human rights and fundamental freedoms. Tuskan stated that the greatest injustice of women is violence, and gave detailed information about international declarations and national strategies related to the subject.
Alkan: There are four main forms of violence against women; physical, psychological, economic and sexual
Alkan said that forensic medicine is in principle subjected to violence, that is death; death investigation and autopsy. He gave examples of concrete and contemporary experiences on women suffering from sexual abuse, focusing on the vigorous examination of violence. Alkan expressed that there are four main types of violence against women, physical, psychological, economic and sexual. Alkan said that people who have suffered from sexual violence often do not express their views and that they are not talking about violence. Also Alkan stated that there are centers of diagnosis and rehabilitation for women, diagnosis centers for child abuse, and women's shelters. Alkan said that it is not difficult to determine physical violence and that it is able to be visualized with photographs and stated that this situation is within the framework of the law and that the punishments to be given is specifically mentioned. Alkan emphasized that psychological violence is not much considered as violence amongst society as several question to women about violence has been asked to determine the thoughts of women against violence such as; a question asking "do you experience violence?" is answered mainly as "no" but on the counter "did your partner ever slap you?" the answer would mainly be "yes", thus women are visibly not considering a slap as a violence against them. Alkan said that economic violence is also very common and many people are unaware of it.