Let's Do It – North Cyprus !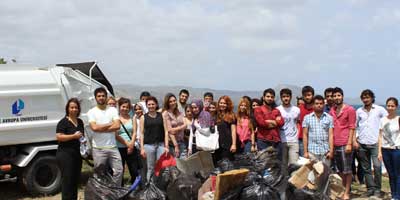 EUL staff and students devotedly collected the garbage along the campus road and the coastline by Cengiz Topel Monument within the scope of the nationwide campaign "Let's Do It!" for the occasion of World Environment Day (June 5).
The campaign attracted great attention among EUL Staff and students from different departments. While EUL staff cleaned and collected garbage and the dried plants alongside the road between the university main entrance gate and Gemikonağı, students collected the garbage by the coastline under the guidance of their teachers.
Students put metal, plastic, paper and fabric wastes into garbage bags separately and a garbage van sent by the university took the bags.