Memorial to the Great Leader Atatürk in EUL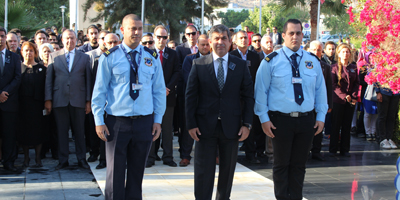 A memorial ceremony on the anniversary of the 78th anniversary of Mustafa Kemal Atatürk, the founder of the Republic of Turkey and a panel titled "Understanding Atatürk Right" was held upon the organization of European University of Lefke (EUL) Faculty of Science and Literature and Dr. Fazıl Küçük Education Faculty.
The commemoration ceremony that took place in front of the EUL campus Atatürk Bust, beginning with the wreath dropping by Rector Prof. Dr. Mehmet Ali Yükselen at the Atatürk Bust, then continued with the honorable mention and moment of stance and the singing of National Anthem of the Independence. The ceremony was attended by faculty deans, department heads, faculty and staff, directors, employees and students, as well as Vice Rectors.
"Understanding Atatürk Right" Panel
Following the memorial ceremony the panel on "Understanding Atatürk Right" was held by the session chair Faculty of Science and Literature Dean Prof. Dr. Saadettin Yıldız. During the panel, the Member of Dr. Fazıl Küçük Education Faculty Prof. Dr Süleyman Çelenk, the Head of History Department of Science and Literature Faculty Assoc. Prof. Dr. İshan Tayhani, and Head of Turkish Language and Literature Department Assist. Prof. Dr. Nazım Muradov have all directed a speech.
Yıldız: "We do not have a chance to tell the truth if we do not understand these significantly great people, the statesmen, the craftsmen. If we cannot utter them correctly, it would be unfair to them. Thus, we entitle the name of today's panel 'Understanding Atatürk' in order to understand Ataturk correctly" said Yıldız.
Çelenk: There is no other leader who values education as much as Atatürk
In his speech, Çelenk, who presented Ataturk's educator side and noted Atatürk's innovations in the field of education, pointed out that two different ministries were established in the Ottoman State in order to manage these schools. Emphasizing that there is no two-headed education system anywhere in the world, Çelenk stated that Ataturk's education was combined with the Tevhid-i Tedrisat Kanunu (The law on unification of education) in 1924 and added that "There is no other leader like Atatürk who was as determined and hard working as him in terms of emphasizing value on education".
Tayhani: Atatürk is not only a soldier but a multi-faceted statesman.
Tayhani stated that Ataturk was not only a successful soldier, a national hero, a thinker, a multi-faceted politician, a true intellectual, a philosopher who had proven himself many times but also stated that the Kemalist thought system had an anti-imperialist and anti-capitalist nature prior to all and that the concepts of 'Westernization and Modernization' had to be well resolved in order to understand Ataturk correctly. Explaining that Ataturk emphasized "Acceleration" or "Modernization" rather than "Westernization", Tayhani said that Atatürk's own theses and determinations were preceded by establishing Turkish Historical Society, Turkish Language Institution and Turkish Aeronautical Society, prior to western civilizations.
Muradov: "Atatürk benefited from the knowledge and experience of various intellectuals"
Muradov collected the speech under three main titles, Atatürk and the Turkish World Intellectuals, the Atatürk and Azerbaijan, Atatürk's Nakhichevan Policy and Atatürk's Alphabet Revolution. Muradov stated that Ataturk benefited from the knowledge and accumulation of various intellectuals, especially Ziya Gökalp. Muradov also said that the Turkish world was using the Arabic alphabet for many years, that the decision to pass the Latin alphabet was taken as a result of the 1926 Baku Turcology Convention and that Ataturk made the Letter Revolution in 1928 after this decision.
At the beginning of the panel, Hasan İnan, a senior student of Guidance and Psychological Counseling Department, read the poem "Atatürk's Last Letter" written by Halim Yagcioglu. Burak Enes Çınar, a first-year student in the Turkish Language and Literature Department of the Faculty of Arts and Sciences, also read poems by Ümit Yaşar Oğuzcan, "I Am Mustafa Kemal". In addition, a short-lived visual presentation about Atatürk was also screened.