New Academic Year has started at EUL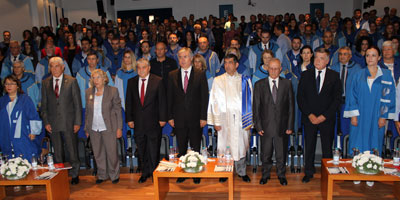 Akça: "Economy depends fundementally on higher education. Approximately 30% of the gnp is comprised of higher education…"
Nicosia, 16 Oct 14 (T.A.K.): EUL 2014-2015 Academic Year started with the ceremony held at EUL Rauf Raif Denktaş Conference Hall.
Halil İbrahim Akça, Turkish Ambassador, YÖDAK representatives, academicians and students attended the ceremony.
YÜKSELEN: "WE ARE NOW A MEDIUM SIZED UNIVERSITY"
The opening speech of the ceremony was delivered by Mehmet Ali Yükselen, EUL Rector.
Yükselen stated that the number of the students was 3875 last year but in 2014-15 Academic Year this figure increased to 5250 and this made the university a medium sized institution.
TOKEL: "I AM PRIDEFUL"
Tokel, EUL Head of Board of Trustees, said that he is proud to see that EUL is now able to compete with other universities in the world.
He also said that EUL is taking firm steps towards overcoming structural, administrative and economic problems it has and he also added "Development of EUL will also contribute in the region."
Tokel asked the support of the government for further developments at EUL and to be able to overcome the current problems.
GÜNAY: "UNIVERSITIES ARE THE VERY DEFINITION OF LIFE"
Prof. Dr. Umay Günay, YÖDAK representative, drew attention to the fact that universities should have their actual function and value and said "Universities are the very definition of life".
AKÇA: ""ECONOMY DEPENDS FUNDEMENTALLY ON HIGHER EDUCATION"
Halil İbrahim Akça, Turkish Ambassador, provided some up-to-date information about the TRNC universities.
"As of yesterday, total number of students is 72053; in my opinion, this figure will increase to 73000 with the registration of vertical transfer students. Last year this figure was 63453, so there has been a 13% increase when compared to the previous year. When we compare this figure with the one in 2011-12 Academic Year, the increase is 67%" said Akça.
Akça described the 100% increase in the number of students as an exceptional achievement.
Akça stated that the TRNC economy fundamentally depends on higher education and added "Approximately 30% of the GNP is comprised of higher education together with its direct and indirect impacts".
As for the autonomy issue, "External intervention in universities does not do any good and it discredits the universities. Considering universities as a place which offers employment opportunities or a place where one can trade and make a tender is the worst thing to do" said Akça.
Prof. Dr. Gencay Şaylan, Head of Public Administration Department – Faculty of Econmics and Administrative sciences, also made a presentation titled "Language and Science".
(BRT-GÖZ/ÖK)