Pakistani students of EUL organized an event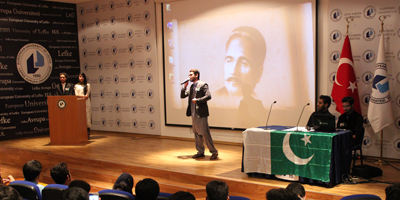 A commemoration program was organized for the one of the most famous poets of Pakistan, "MUHAMMAD IQBAL" by European University of Lefke (EUL) International Office and Students' Dean Office at EUL Rauf Raif Denktaş Education Complex Conference Hall.
Following the moment of silence stance and the singing of National Anthems of both countries the commemoration program continued with the screening of Muhammad Iqbal's brief life history. After the presentation, the Pakistani students have described Iqbal's philosophy of life through reading his poems in traditional cloths.
During the Pakistan commemoration night which had led foreign students to promote their own culture and nations, also presenting culture specific notions of respect, have additionally granted a chance for all other EUL students to be acknowledged.
EUL students who gather together during the national and special days of the international students organized by the International Office and Students' Dean Office have emphasized that they are very happy to promote different cultures.