"Patient rights applications is the real indication and most accurate measure value parted to human"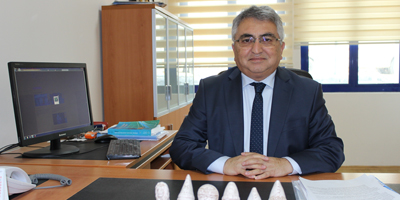 Dean of EUL Health Sciences Faculty Tabak has made a statement about patient rights
The Dean of European University of Lefke (EUL) Prof. Dr. Ruhi Selçuk Tabak, in his statement made in line with the "Patient Rights Day", has stated that the developments made in patient applications in regards to patient rights are encouraging.
Tabak rephrasing the definition of Health Rights as Patient Rights; the rights and responsibilities imposed by the patients towards the service providers for the sake of solution to their current health problem, also restated the health rights as "the right of a person to demand health care from the community and the state and to be treated as necessary and demand to be cured and also to benefit from the communal opportunities to continuously develop one's health".
Community needs to be informed and acknowledged about the patient rights
Tabak explained that "the health rights which lays under the fundamental human rights is practiced with the epitomizing way of patient rights application", therefore the community is necessary to be informed and acknowledged about both health and patient rights through initially by health and education institutions and organizations and furthermore by all the organizational aspects of the community and by the communal leaders; under their main responsibilities. Tabak emphasized that especially the health care providers must be aware of the patient rights and provide the service and preserve the rights of the patients under this scope. Moreover Tabak underlined that patient rights applications is the real indication and most accurate measure value parted to human.
All segments of the society must be acknowledged about the health rights and responsibilities
Tabak briefing about all defined and must-to-know rights by all the segments of the society with regard to health services presentation and application, listed these rights as generally benefiting from these rights, notification and demand of information, chose of selecting health institution or personnel or alternation of both, privacy, will, treatment under safe conditions, respect and comfort ability, hold of visitors or attendant and complaint and cause of action.
Tabak further informed about "Our Responsibilities as Patients" and stated that acting and behaving in line with the rules and regulations set by the health institution that one is being treated in and as well to be acknowledged about being part of the diagnosis and treatment team, furthermore to also provide the most correct information about one's previous diseases and illnesses and the medication currently in practice. Moreover to fully participate in routine health controls set by the practitioner and also to provide information about possible alternation of appointment time and date and finally to respect and preserve all the rights of other patients and the health service providers and inform the patient information unit in case of any problems encountered.
Tabak finally stressed that all the rights of a patient must be implemented for the sole sake of being human and being part of the community within the respect of humane honor as the communal responsibility and liability.