"PEC" accreditation to EUL Civil Engineering Department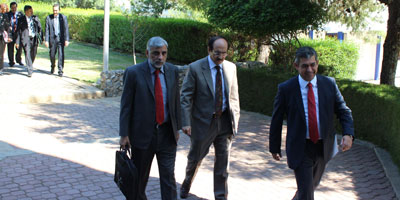 European University of Lefke (EUL) Civil Engineering Department was accredited after the supervision that was made by Pakistan Engineering Council. During the same visit, accreditation process of Computer Engineering and Electric and Electronic Engineering Departments were extended.
Educational institutions and firms that are professional in the field of engineering are the members of Pakistan Engineering Council. Pakistan Engineering Council Committee (PEC) who serve the purpose of providing the accreditation of engineering programs, regulation of career development processes, and creation of career development standards, have visited EUL Civil Engineering Department and made assessments.
During the visitation program that was held in the university between dates of 11 and 13 May,  general presentation was realized to the committee by Civil Engineering Department and detailed information about department's mission, vision, population of students, program contexts, training objectives were relayed.
Within the scope of the program, Civil Engineering Department lecturers, research assistants, and committee who have met with the students, observed the EUL Engineering Laboratories. Committee stated that EUL's engineering laboratories have a substructure with cutting edge technology devices which for this reason, the students adopt high professional competence levels as they graduate. Thus, the accreditation was approved for the Civil Engineering Department.
Developments in EUL are appreciative
Committee authorities have visited different units of the University and emphasized on the development, since the last visit made three years ago, during the administration of Prof. Dr. Mehmet Ali Yükselen. They indicated that fast development process of EUL is appreciative and university's investments on substructure and academic quality are indeed gratifying.
Civil Engineering Department students Emre Kaya and Arslan Bilal remarked their opinions about the accreditation process and visitation of PEC Committee and stated that:
Kaya: Accreditation of Civil Engineering Department by 'PEC' is a big success
Kaya mentioned that PEC have been making a bid for a quality education in various fields in Pakistan since 30 years and he said that, that the EUL Civil Engineering Department was considered worthy for accreditation fill department students with pride.
Bilal: I actively worked in PEC Committee
Bilal indicated that he was assigned actively in PEC Committee's visitation as a Pakistani student and he mentioned that this was an important experience for him to take part in this accreditation process as a EUL student. He thanks to the EUL administration for providing this opportunity to him. Success that were confessed with department academicians and in a consequence of intense works gives department students a pride and he mentioned that he believed that this accreditation will provide advantage to all students as an academic competence.