Significant Projects enliven in EUL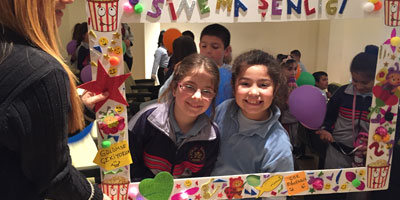 With the leadership of the associate of Dr. Fazıl Küçük Education Faculty of European University of Lefke (EUL) Assist. Prof. Dr. Tuba Gökmenoğlu, students have organized various events within the Community Service Applications lesson. "Children without cinema shouldn't remain", "My Wonderful School", "My Art Full Saturday" named education and art events have been by students for Lefke and primary schools within it. With the cooperation between Kızılay and Faculty of Health Sciences of EUL, social responsibility project "Blood Donation" has been realized.
Events has been organized for primary school students
 "No Children with No Cinema Shall Be"
Students, with the event which has the slogan "Children without cinema shouldn't remain", have invited the students of Erdal Abil Primary School, Yeşilyurt Primary School, Lefke Istiklal Primary School and Yedidalga Primary school, which are within Lefke, to the EUL Movie Theater and realized a movie screening. At the end of the event, with the accompany of EUL's mascot Muffi, balloons have been given away to the primary school students and provided to make them spend pleasant times. EUL students have reached to 400 primary school students with the "No Children with No Cinema Shall Be" event and lived different experiences to the children who never met cinema environment within the scope of work.
 "My Wonderful School"
EUL students have drawn and painted various ground games to the schoolyard in order to children can play games in Erdal Abit Primary School and Lefke Istiklal Primary School's schoolyard. Gökmenoğlu, who mentioned that the "My Wonderful School" events which are started last semester within Community Service Applications lessons will continue this semester, has stated that their purpose in this project is to provide teacher candidates to gain various experiences during their university education about to identify their own schools needs and problems, create solution for them in the future. Gökmenoğlu, while emphasizing that teachers are not only responsible for lectures and functioning within class, they are the persons who will look after students either academically or socially needs, stated "if it is being looked from this point, it is an important mission for us that teacher candidates gain experiences about finding solutions for their students' game needs." in his speech.
 "My Art Full Saturday"
Another event has been "My Art Full Saturday" named event which has been realized with the accompany of Expert Havva Samer. Within the event, productive time has been provided to students to spend with their parents by setting up marbling, mosaics and ceramics workshop. Gökmenoğlu, who stated that the purpose of the project is to provide adults and children who live in Lefke to meet with art studios and various other arts, has mentioned that the participation request are high and parents are more eager and exciting than children during events are a remarkable point. Gökmenoğlu has stated that parents who made artistic production with their children had a beautiful Saturday, this kind of artistic activities has been requested by the participants to be repeated.
"Blood Donation"
In this "Blood Donation" project, which has been realized in Faculty of Health Sciences of EUL, students have helped to Kızılay, have learned and experienced in stages how an aid campaign is being organized, planned and performed. Students have mentioned that they have gained information, skill, experience and developed susceptibility for identifying various problems of community and troubleshooting them.