Tastes peculiar to Italy were introduced in the praxis kitchen of EUL….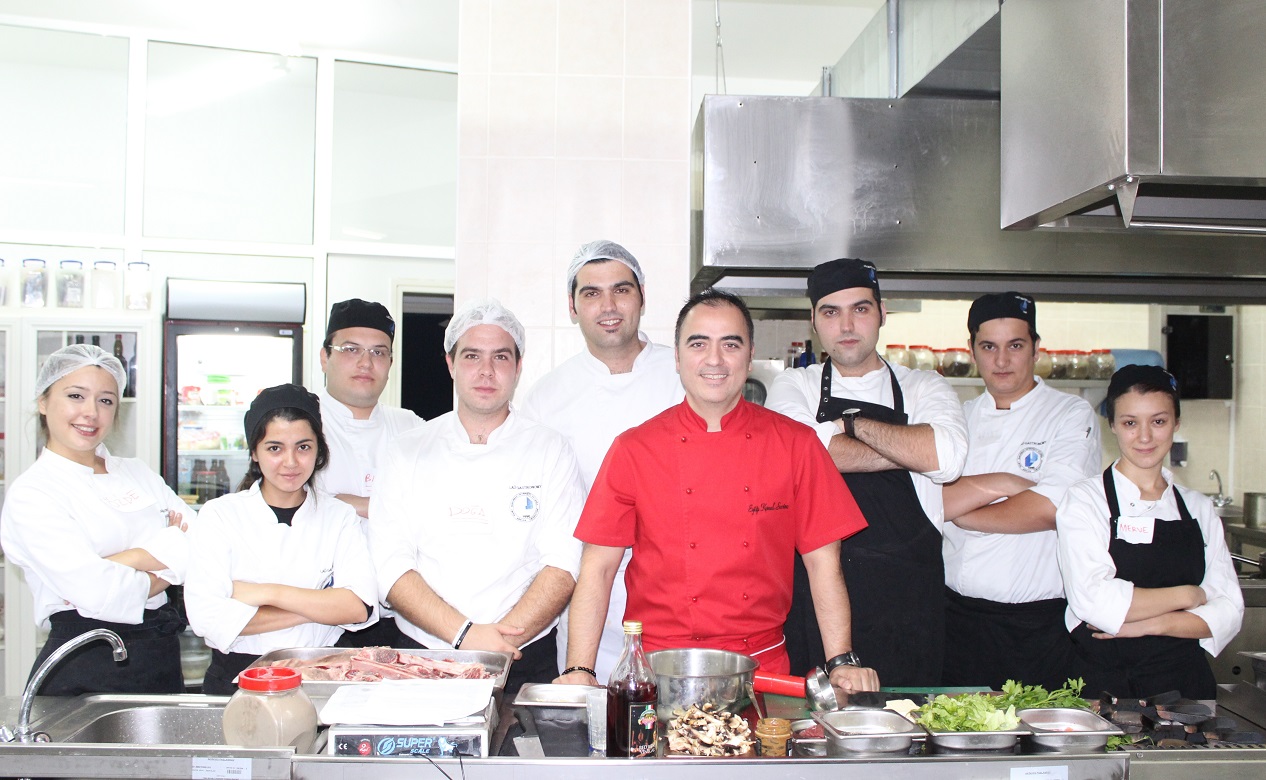 European Cuisine examples from the famous Chief Eyüp Kemal  Sevinç
 
European University of Lefke (EUL), School of Tourism and Hotel Management and Gastronomy Department, the fourth year students found opportunities to learn and practice different tastes in praxis cookery, which are particular to the European Cookery, under the  leadership of Eyüp Kemal  Sevinç, who is the founder and the chief of EKS Kitchen Academy.
Various tastes in respect of  Italy from the European Cookery took place this week in EUL Gastronomy Culinary in which nominately information that was learned theoretically and  became pragmatic knowledge. Traditional osso buco ve mushroom risotto also appeared in the practice lessons in the second day's menu while insalata bistecca, cokoletta alla milanese and polenta were being cooked in the first day's menu in praxis lessons that lasted during two days.
Experienced chief Eyüp Kemal Sevinç, who gave information about the training that was held in the praxis culinary, stated that students learning by experiencing ensures them to gain more experience about the tastes that they will create in their future career.  Due to this, it makes a significant contribution to students to acquire a profession easily both in national and international zone.
Sevinç: Sevinç put emphasis on the fact that they study Europe by dividing it into five cuisines namely East, West, North, South and Central Europe by stating that students are also given information about the history of Europe Cuisine while teaching them cooking, chopping, presentation techniques and how to cook tastes of different countries.
The students who received training in EUL Gastronomy praxis culinary in company with experienced teachers said about the trainings as in the following lines:
Şükran Kaya: "Studying at EUL is very nice.  Our university especially gives great importance to both theoretic and pragmatic education for two years.  We have learned in praxis kitchen how to cook France and Italy meals from Europe Cuisine for two weeks.  By virtue of this praxis, we are learning cooking techniques, presentation techniques and hygienic measures in culinary arts.  We are very lucky to receive education in company with famous chiefs in their fields since last year.  I am thinking of doing chocolate manufacturing by improving myself for few years after graduating."
Burak Çolakoğlu: "I am happy to study at EUL.  We are very lucky to have practical lessons because this will provide us a major contribution in our future career life.  I see myself very fortunate on account of having training notedly from Kemal Eyüp Sevinç, who is one of the top chiefs of Turkey.  My aim after being a graduate is to work in a hotel in Europe or America after performing work in my field for several years."
Doğa Çetin: "I have gained the upper hand by being here at EUL.  I am quite pleased with our teachers and the education that we received as theoretic and pragmatic within the scope of the lesson regarding our occupation.  It is very valuable to get training from other teachers, who are expert in their filed and the famous chief, Kemal Eyüp Sevinç, who is well known in Turkey and in the world.  EUL praxis culinary has the various supplies and equipment that have to be in a culinary which provides praxis in gastronomy field.  My first aim after graduating from this university is to work in any council as an academician by having an academic career."