The famous script-writer and author Nazan Arısoy came together with the students in EUL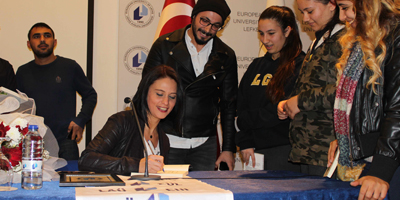 "Interview with Nazan Arısoy and Book Signing Day" was organized by European University of Lefke (EUL) Library Club at Rauf Raif Denktas Conference Hall, as the famous script-writer and author Nazan Arısoy who met the students in a commune session.
Arısoy stated that her interest in writing originated from her journalist father and her literature teacher mother, and stated that she has continued her life as a writer since the age of 10 and said, "Everyone has a definition of love". "Loving is the state of lost. Living love without getting lost is just a dream. "
Arısoy, who said that the most precious thing in her life is health and time, she recommended that students to choose the people who will accompany their life with as their time is very valuable. And also added that, they shall not waste someone's time and that no one shall waste their time.
At the end of the event, the EUL Student Dean Özgür Yılmabaşar presented Arısoy with a souvenir plaque that reflects the cult of Cyprus and flowers were presented by Alev Lort, the Director of the EUL Library. In addition, Arısoy signed books on behalf of the students, 'İlginç Adamlar ve Kadınları', 'Yağmur'dan sonra Deniz', '21 Gün' 'Piraye'de Nazım Olmak' and 'Ah Sen' and also took souvenir photos with students.