The Head of EUL Special Education Teaching Department Ataman, underlined rights of children with special needs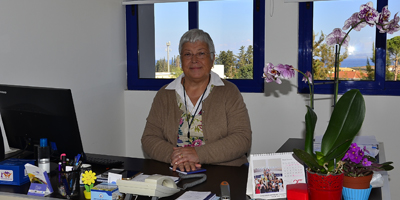 "Education is the fundamental right of every child"
The Head of European University of Lefke (EUL) Dr. Fazıl Küçük Education Faculty Special Education Teaching Department Prof. Dr. Ayşegül Ataman have expressed the rights of children with special needs during the event help on "International Day of Disabled Persons".
Ataman stated that the United Nations has accepted the 3 December day since 1992 as an international day and organizes events around the world on this day.  "It is aimed to overcome the restrictions created by the society and to develop positive attitudes to the affected individuals in society due to the inevitable transformation of society into an activity celebrated all over the world today with ceremonies".  Ataman emphasized that these efforts had first gained significance with the communal movements that began in the United States, and that on June 10, 1994 in Salamanca, Spain; more than 300 people representing 92 states and 25 international organizations came together to declare the Salamanca Declaration. Ataman explained the purpose of the declaration as "inclusive education", namely developing an all-inclusive education approach and achieving the goal of "education for all", by strengthening it in a way that will serve all children in school, especially children in need of special education.
"All children should be enrolled in regular schools"
Ataman pointed out that every child has a basic right to education, special features, interest, talent and learning needs within the scope of "Education for All". Ataman said children with special education needs should be able to attend regular schools and trained in a "child-centered" education system that can meet their needs. In addition, Ataman stressed that all children should be enrolled in normal schools and accept the principle of inclusive education as a legal and political issue, unless there are other compelling reasons. Ataman also emphasized that they should exchange experiences and information with the countries that have experienced with schools covering "Education for All", project development and inclusion of more efforts in the early stages of diagnosis and intervention as well as in the occupational aspect of inclusive education. Ataman pointed out the elements that must be provided for the realization of this right by the States that have accepted the United Nations Convention on the Rights of Persons with Disabilities; disabled persons in the States should not be excluded from the general education system due to their disability and disabled children should not be excluded from free and compulsory primary and secondary education facilities due to their disabilities and should be able to access equally integrated and qualified primary and secondary education and reasonable arrangements according to the needs of the individuals. In addition, they should receive the support they need within the general education system so that they can benefit effectively from general education. Individualized effective supportive measures for disabled people should be provided in an environment that promotes academic and social development in accordance with the goal of full inclusion / integration of educated people with disabilities.
Special Needs Children Research-Application and Training Center (ÖÇEM) serves all the children with special needs in the island
Ataman stated that children with special needs are now studying together with their peers in the schools in the Turkish Republic of Northern Cyprus. As LAU, this approach have begun since 2013 and the first graduates will be dismissed in this academic year. Ataman also stated that in the university there are special services for children with different needs, such as summer vacation period, from the age of 2.5 to 15 years, cooperated with ÖÇEM.