Vocational High Schools competed in EUL application cuisine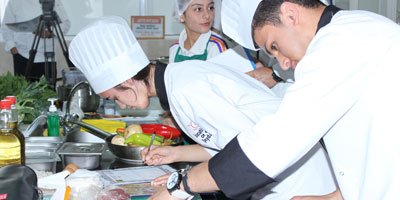 Under the hosting of European University of Lefke (EUL), the "3rd Traditional Tourism High Schools Food and Service Presentations Contest" has been organized with the corporation of TRNC National Ministry of Education and Tourism and Hospitality Management College.
Before the competition, ministry officials have mentioned that the Knowledge and Skill Competitions, which are aiming "to bring the professional knowledge of the students that they have learned during their education into the forefront, to provide coordination and standardization on vocational education and all departments about it,  also to emphasize the importance of vocational education", were made in many different occupations including cuisine, service, housekeeping, child development and education, hair care branch, hand and computer drawing in construction section, command and installation in electric, electronic, information technologies and computerized accounting instruction.
In 'Knowledge and Skills Competitions Between Vocational High Schools', where vocational high school students exhibits their knowledge and skills and that is being watched with great interests every year, "Creative Cuisine Contest" and "Basket Contest" within cuisine branch and "A La Carte Menu Service" and "Cocktail" contests within service branch were made in EUL Application Cuisine.
In the competition that is realized with the organization of Vocational and Technical Education Department, European University of Lefke, Eastern Mediterranean University, Near East University and Girne American University's representatives, Arkın Group and industry representatives were the jurors.
Haydarpaşa Business High School is first in three branches
According to the results of the competitions, while Haydarpaşa Business High School students Muazzez Güvenlier in Local Cuisine Contest, Terrim Andiç, Emine Sark and Şeyda Canlı in Basket Contest and Berkam Nurdan in Cocktail Contest were being 1st, Güzelyurt Vocational High School student Eli Kaya has been 1st in A La Carte Menu Service branch.