"Women in the Context of Human Rights: Situation, Problems and Solution Proposals" Discussed in EUL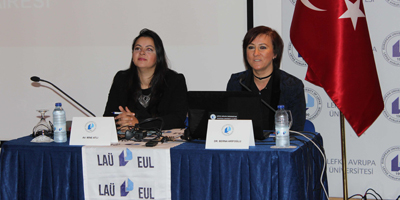 A panel titled "Women in the Context of Human Rights: Situation, Problems and Solution Proposals" was organized by European University of Lefke (EUL) Students' Dean Office and Social Service Club. Mine Atlı- "Director Against Violence" Project Director and Lawyer, Ministry of Labor and Social Security – Department of Social Services Berna Arifoğlu- the Head of the Department, participated as a panel speaker in the Rauf Raif Denktas Educational Complex Conference Hall.,
The panel started with a speech by Ayşegül Karakulak, a student at the Social Services Department of the School of Health Sciences, on the nature of violence against women in the context of human rights.
Atlı: One out of every three women is exposed to violence
Atlı who gave information about "Stand Against Violence" Project, has also implied that the Association of Support from Women to Life (KAYAD) which was first established in 1998 in TRNC in order to strengthen the role of women in society and also that the final aim of the Stand Against Violence, Preventing Domestic Violence Against Women and Children Project is to broaden the capacity of all those Professional organizations which lay in line with the resisters of domestic violence. Atlı mentioned that in order to establish the database for the Project, four phases would be required to be undertaken; education, awareness, legal legislation and judicial support, and added that regardless of considering the sexuality or sexual orientation of the domestic violence which consists of a family member who is 16 years and elder and/or who had had an intimate relationship with each other and/or continues to live a relationship through threatening, violence, suppressing or restricting one's freedom and/or further relates to psychological, physical, sexual and economic violence.
Sharing the results of the Resistance against Violence survey, Atlı stated that the age of marriage is 21.66, the average age of giving birth is 22.69 and 77.39% of the participants have children. According to the survey, one out of every three participants experienced physical violence, one in every four females outspoken her in front of others, and about one out of every three females felt pressured not to use contraceptive methods. According to Atlı; In the survey results, 17.82% of the respondents said that violence was not a reason to finish the relationship, 64.5% said that women who experienced violence are yet continuing their relationships for the fact that either they have accepted to live under this violence or were forced to.
Arifoğlu: Violence against women is a violation of human rights
Arifoğlu, who made a presentation on "Violence Against Women", described the violence as an attitude or approach leading to injury, intimidation, rage or emotional pressure on the individuals. Arifoglu expressed that violence is a situation that makes people forget that they are human beings and that makes them feel complicated feelings that even they do not understand. It is why that violent individuals are confused in their feelings against adults, that is, feeling the same love and hatred, abandoning, expressing their feelings and fear of being wounded with emotional changes such as anger, depression, extreme unhappiness, feelings of helplessness and powerlessness.
Arifoglu stated that violence against women was influential on women without regard for class and culture differences and throughout history, violence against women was used as a way of controlling women both in the family and in society. "Violence against women, a reflection of the unequal power relations between women and men for many years, is a grave violation of human rights," Arifoglu said. Arifoğlu said that violence against women is a serious social problem and continues to be experienced all over the world without any cultural, economic, geographical boundaries. Stating that, "Violence against women in every way; Putting women's lives in fear and insecurity, affecting their physical and mental health negatively and preventing their participation in social life ", violence against women is not a women's problem but a social problem.
During the presentation, Arifoğlu gave information on prevention of violence in the world and expenses related to medical, legal, law enforcement services and social services to protect and support the victims of violence, violence against women in the TRNC, prevention of violence against women. In addition, Arifoğlu provided information on the work carried out for the woman in the Social Services Department and on the National Action Plan Objectives to Combat Violence Against Women.
The panel ended with the presentation of a certificate of appreciation by Prof. Dr. Ruhi Selçuk Tabak, the Dean of the Faculty of Health Sciences of EUL.