World Cinema has spoken at EUL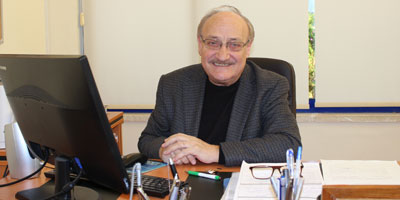 Dean of the Faculty of Communication Sciences Prof. Dr. Faruk Kalkan made a presentation this week themed "World Cinema" as part of the seminars entitled "Scientists are Talking", which take place every Tuesday by the European University of Lefke (EUL) deans, department heads and faculty members.
Kalkan, who provided information about World Cinema, major theater currents, the effects of these currents and their repercussions, gave voice to the major impact of cinema on changes in human life.
Kalkan, who addressed World Cinema in three sections, covered ground prelusively on "New Realist Italian Cinema", "British Independent Cinema" ultimately "French New Wave Cinema" and he offered interesting short visual and video representations regarding the movements.
Kalkan stated that The French New Wave Cinema is the most influential current among these currents by pointing out that new perspectives are gained to world cinema with this tendency and new concepts have also begun to be processed in cinemas.
Finally, Kalkan said that these tendencies develop by being interconnected to each other and greatly affect the World Cinema by remarking that these three tendencies have an important place when the cinema era is considered.  Kalkan answered the questions of the participants by giving examples from Turkish and World Cinema at the end of the seminar.