Yükselen explained EUL's development to Lefke and its locals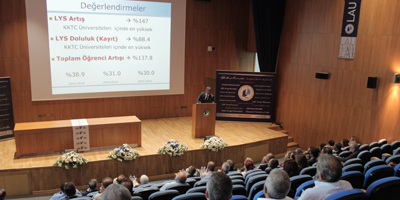 EUL achieved a historical success
European University of Lefke (EUL) has organized "2016-2017 Academic Year Evaluation Meeting" in EUL Faculty of Law Great Amphitheater. The local MP's, the Chair of the Board of Trustees and its members, numerous business people, various NGOs  and administrators of local high schools have presented significant interest through their participation. The meeting initiated with the opening speech of the EUL Chair of Board of Trustees- Özgün Faruk.
Faruk underlined that similar evaluation meetings are organized by the Rector of EUL, Prof. Dr. Mehmet Ali Yükselen, and stressed that previous presumptions of Rector Yükselen have been realized, and thus the themes of this evaluation meeting must be seriously taken into account in order to grant benefit both for the investors and the locals.
Faruk: Our aim is to lead EUL to reach to its own
Faruk stated that "European University of Lefke is the most rapidly growing university, therefore, we will contribute as much as we can in order to sustain and improve this growth." Faruk also underlined that "we wish to see the locals of Lefke and the university to embrace one another, and to interact, thus locals to benefit from the outputs of the university as this is the main aim of the establishment of EUL. Our desire is to enhance the development of EUL to the peak, as many new departments have been opened since 3 years, and reinforcing the rapid growth of the university." Faruk finally emphasized that over 3000 new students have registered to EUL in the new academic year and thanked initially to Rector Yükselen, and to both academic and administrative staff of EUL for such a success.
Yükselen: We will initiate the new Academic Year with 9167 students
Rector Yükselen stated that during the traditional annual meetings, the evaluation phase of the European University of Lefke which is a state foundation university, is briefed on two main titles; "Evaluation of Completed Academic Year" and "2016-2017 Academic Year Development Plan".
Yükselen emphasized that for the first time in EUL's history, the university has reached 9167 students compared to the previous year's number of 7051, and also added that EUL campus is continuously enlarging its capacity with the newly constructed buildings.  Since initiating his Office in 2013, the UPE results indicated that 870 students preferring EUL, and increasing in 2015 to 1739, and finally in 2016 increasing up to 23%, to 2147, thus ranking EUL to the top third preferred university in TRNC for the first time in its history. "Since the first day of my Office, the total percentage of increase is 147%, with the majority of the students preferring EUL's 28 programs with the highest base point''. Yükselen underlined that these statistics are indications of development and enlargement in terms of each program, thus in line; the total number of academic staff have increased from 112 to 304 during the new semester.
52 New programs have been initiated in the last 3 years
Yükselen added that within Health Services Vocational School, "Dental Health, Dental Technology, Pathology Laboratory Technician, Orthopedic Prosthetics and Orthotics, Electro Neurophysiology, Audiometry and Perfusion Techniques", within the Vocational School, "Tourist Guide",  within the Faculty of Health Sciences, "Nutrition and Dietetics (Eng ) ",  within the Arts and Sciences Faculty, " Psychology (Eng)", within the Physical Education and Sports School of the Constitution" Sports Management ", within the School of Health Sciences, " Nursing (Eng) ", within the Faculty of Communication Sciences, " New Media and Journalism "programs have been initiated, and  in the last three years, 12 degree, 24 undergraduate, 9 graduate and 7 doctoral programs with a total of 52 new programs carried out with the approval of the Higher Education Council, thus enabling the current growth. Yükselen also mentioning the infrastructure works undertaken, has emphasized that in line with the rising number of students, the required number of lecture halls, laboratories and other infrastructural requirements have been developed and the transportation means have been expanded.
Yükselen stressed that in order to meet the demand of the rising number of students in means of accommodation, dormitories have been built and more dormitory and apartments are under construction, thus undermining any possible obstacles in terms of accommodation.
Faculty of Law, Amphitheater Building, Lefke Central Dormitory and EUL Lounge have been completed
Yükselen informing about continuing and completed buildings has stated that Faculty of Law, Amphitheater Building, Lefke Central Dormitory and EUL Lounge buildings have been completed, and EUL Mosque Project is yet continuing. Yükselen emphasized that the "Semi-Olympic Indoor Swimming Pool, Pharmacy Faculty Building, EUL Transportation, General Services and Technical Services Building, Gemikonağı Guest House Project and Campus Dormitory Project is planned to be completed for the next year''.
Yükselen speaking also about the measures required to be taken into consideration emphasized that social and cultural development projects are necessary to be supported and he invited investors to Lefke and its surrounding suburbs. Yükselen also underlined that there has been no problems encountered between the students and the locals until today thus finally stressing the significance of being a "student-friendly place".