Environmental Pollution Awareness Exhibition was held at EUL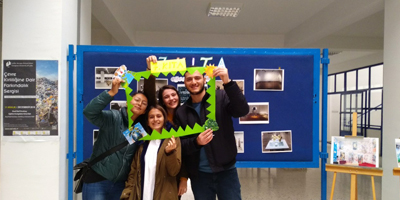 "Environmental Pollution Awareness Exhibition" was opened by Social Services Club affiliated to the European University of Lefke (EUL) Centre of Social and Cultural Activities.
Plastic waste creates environmental pollution in the seas
In the exhibition which was organized by the members of Social Services club, attention was drawn to environmental pollution by creating an artistic perspective on environmental pollution. Within the framework of the exhibition the attention was drawn to the fact that there is a giant island of plastic waste in the middle of the Pacific Ocean, which continues to grow rapidly and is 5 times the size of Turkey. Moreover, the fact that plastic wastes harm all living creatures at sea and create danger was also discussed in the exhibition. Photographs including works from the 16th Istanbul Biennial and photos of students' garbage collection were also on display.
Artistic photographs of garbage were exhibited in the exhibition
Members of the Social Services Club who organized the exhibition said that "As candidates for social work specialists, we wanted to explain what they can do to reduce this problem individually to our precious teachers and students who continue their education in our university within the scope of social service practices course". The students also stated that they made a small animation for their friends who could not attend the 16th Istanbul Biennial, and took artistic photographs of the trash and presented them to the visitors.