EUL Academician Aras made statements on "Contribution of Architecture to Human Life"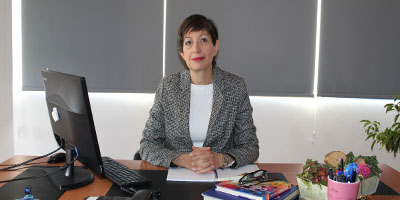 Dean of the Faculty of Architecture, European University of Lefke. Prof. Dr. Lerzan Aras made statements on "Contribution of Architecture to Human Life".
"While the world we are in is changing every moment, the bond of the design with the human is definitely changing. This has been the case since ancient times. Architecture has created itself to design what it wants. What is different now is that this change and adaptation was slow in the long run; Now, time cannot be predicted, "she said. Everything has the power to change from night to night, we have to accept this change and that architecture has to accelerate.
Aras: Sustainable designs with higher trust and environmental awareness are preferred
Aras said, "Today, we are experiencing a post-industrial order. Concepts such as fashion, trend, communication, advertisement are almost a part of our daily life. Especially technology is a must. However, in all these variable concepts, the relationship of architecture with human always remains constant; Because, the aim of architecture is not only to use the new technology to the end and to bring the visuality to the fore " Instead of this point of view, architecture pointed out that in recent years, it preferred more sustainable, more natural designs that provide an environment where the individual will feel more comfortable, and where trust and environmental awareness are higher.
Aras: In a good architectural design, it is aimed to facilitate the user's life.
"In a good architectural design, it is aimed to facilitate the user's life. Increasing the quality of life and being accessible is at the forefront; so the goal is not just to keep up with the speed of consumption. If there is a need for housing, the architect is there. If the city is in need about sustainability, the architect is still there. When everyday life needs to be facilitated, it will still provide this with its architect design. Many disciplines are now in collaboration with architecture, "said Aras, urban designers, interior designers, sociologists, environmental scientists, engineers and architects, working together more than ever before and trying to make the environment in which people live in a more comfortable and safe environment.
Architects work to make people's dreams come true.
"Architects work to remind people of their dreams and even realize them for them. This phenomenon, which we can call the soul of life, can sometimes be a house, sometimes a small street, sometimes a park, or a small cafe. Ultimately, they all have spatial solutions and have gained meaning for us at different times of our lives; In other words, architecture exists in a sense to help people gather memories. Finally, Aras stated that it is a good feeling to see that when the world is going through difficult times in many ways such as wars, environmental pollution, unavoidable and unhealthy population growth, epidemics, it is as much as someone knows what they want when they realize their dreams.