EUL Academician Oğurlu made a presentation in the "International Congress of Current Debates in Social Sciences"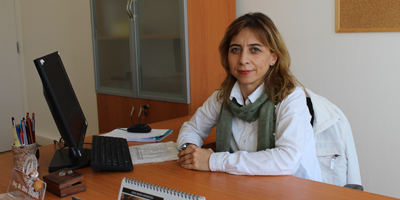 Oğurlu deemed worthy of "Best Paper in International Relations" prize
Academician of European University of Lefke (EUL) Faculty of Economics & Administrative Sciences Department of Business Assoc. Prof. Dr. Ebru Oğurlu attended the 7th International Congress on Current Debates in Social Sciences which took place at New York and represented EUL.
Oğurlu contributed to the congress with her presentation themed "The Future Scenarios of the European Union in the Shadow of Ongoing Crises" and deemed worthy of Best Paper in International Relations prize.
Oğurlu pointed out that, European Union (EU) which is built on regional unity, peace and development, is undergoing its most challenging period in terms of political, economic and military, in its 60-year history and said that "The crises that had to face since 2005 have dragged the Union to a 'crisis of existence', and have brought discussions about the future of the Union".
Oğurlu said that in this context, one of the most important issues in the near future will be debates about taking measures to prevent the spread and to preserve of the existence of the EU and added that there were "differentiated models of integration" that would be created in such a way that it would not harm the soul of the Union at the focal point of the discussions and proposals. Oğurlu said that "The models which came into existence in this concept such as multi speed Europe, variable geometric Europe and à la carte Europe, form the basis of White Paper published by the European Commission on March 1, 2017: Different scenarios in the dossier on Europe's Future – Thoughts and Scenarios for the EU27 before 2025". Oğurlu also pointed out that, in the White Paper, which includes a common view of member states continuing as a Union in the future, there are five different scenarios in which the scope of integration changes. Poiting out that these scenarios named "Carrying On", "Nothing but the Single Market", "Those Who Want More Do More", "Doing Less More Efficiently", and "Doing Much More Together" aims to keep Europeans together and to prevent European integration from being harmed, Oğurlu stated that, "Although there are some weaknesses and complications within them, the mentioned scenarios offer ways to EUL for solution and provide flexibility for urgent crisis resolution,".
Oğurlu stated that said that it seems possible to mitigate the Euro crisis and the refugee crisis, which have lived today and shook the EU deeply, using this flexibility and added that in the Euro crisis and the refugee crisis, referring to the third scenario of the Commission, more momentum for integration can be achieved with those who want more. Oğurlu finally said that, "But it is important for the future of the Union that this model is always open to the participation of all members of the Union and that in no way harms the spirit and the lyre of integration".